This article will provide an overview on how to adjust your camera's settings for optimal performance, how to setup recordings, as well as how to upload/share the device using third party services such as YouTube, Facebook, etc.) For more information, please refer to the information provided below.
1. Adjust Camera Settings for Maximum Resolution, FPS, Bitrate for 5MP and 4K Cameras
Most Amcrest products are H.265 compatible. H.265 provides a more advanced technology than H.264 and allows the camera to reduce file sizes which in turn helps to reduce required bandwidth without sacrificing frames per second (FPS) or resolution. However, for maximum compatibility when accessing your device in a web browser, or other third party applications, our H.265 compatible products will come factory default to H.264. For optimal performance, the device's settings can be upgraded to H.265 compression if needed. For more details on H.265 compression click here.
How to Adjust Camera Settings for Optimum Performance Using H.265 Compression
Step 1: Ensure the device is plugged into your local network using an Ethernet cable and is powered on. If using a PoE compatible device, both data and power can be applied to the camera if using a PoE switch. Once the device is on, log into your device locally using a web browser. For more information on how to access the web user interface (web UI) for your device, please click here.
Step 2: Click on Setup and navigate to Camera>>Video.

Step 3: Locate the Encode Mode dropdown menu and select H.265.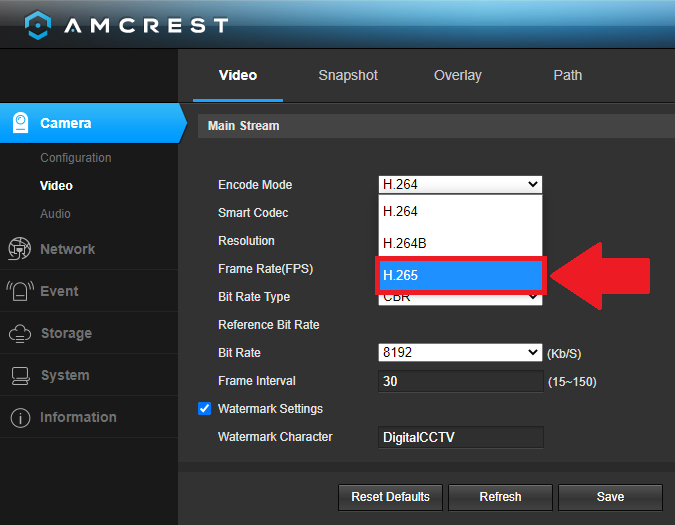 Step 4: Click Save to set your device to H.265 compression.
Adjusting Bit Rates
Since H.265 compression uses roughly 30% less resources than H.264, the camera will typically come defaulted to a preset bitrate when switching to H.265. For instance, when switching to H.265 on a 4K camera, the bitrate may be defaulted to 8192 Kb/S, however, adjusting the bitrate to a lower value may help to increase the overall efficiency of the camera while viewing playback or watching live view.
To adjust the bitrate, access the Encode menu and click on the Bit Rate (Kb/S) dropdown menu. A list of preset bitrates will be displayed as well as a Customized selection which will allow you to set a customized bitrate if needed.
Please note, when using a 4K camera, it is recommended to keep the bitrate around 1792 Kb/S, however, different values may be applicable depending on your specific network requirements.
Please refer to the table below regarding recommended resolution and bitrates and custom thresholds.
Current Recommendations for Bitrate Based on Resolution

For more information on how to adjust the bit rate, please refer to the information provided below.
Step 1: In the Encode menu, click on the Bit Rate dropdown menu and select a bitrate.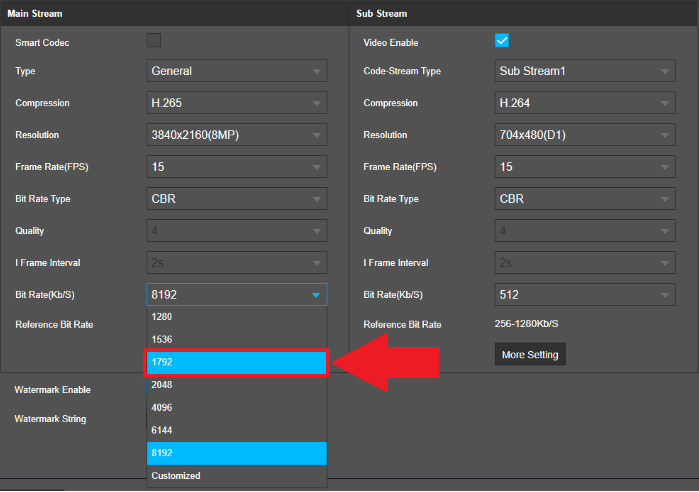 Note: A customized bitrate may also be applicable in some cases. This may be a trial and error process since most network environments are unique and may vary, however, the reference bitrate can range between 1792-2048 Kb/S if using a 4K camera. An optimal customized bitrate should be around 1825 Kb/S.
Step 2: Click Save to save the adjusted bitrate settings.
2. How to Setup Recordings
To record events to your camera, please ensure a microSD card, properly formatted to FAT 32, is inserted into the microSD card slot of your device. For more information on how to format a microSD card to FAT 32, click here.
Once the microSD card has been inserted into your camera we can begin setting up recordings. Recordings can be setup using either the web user interface (web UI) in a web browser or using the Amcrest View Pro app. For purposes of this guide we will be using the web UI, however, for more information on how to setup recordings using the Amcrest View Pro app, please click here.
By default, the device is enabled to record motion detection events and alarms 24/7, however, a general (continuous) recording type can be enabled as well. Please note, there are 3 main recording types; General (which allows the camera to record continuously), Motion, (which allows the device to record only when motion events are triggered), and Alarm (which allows the device to record once an alarm has been triggered).
A recording schedule can also be set which allows the recording type to record only during specified times of the day. For more information on how to setup a recording schedule, please refer to the information provided below.
Setting Up a Recording Schedule
Step 1: Log into the web UI for your device and click on Setup.
Step 2: Click on Storage and access the Schedule menu.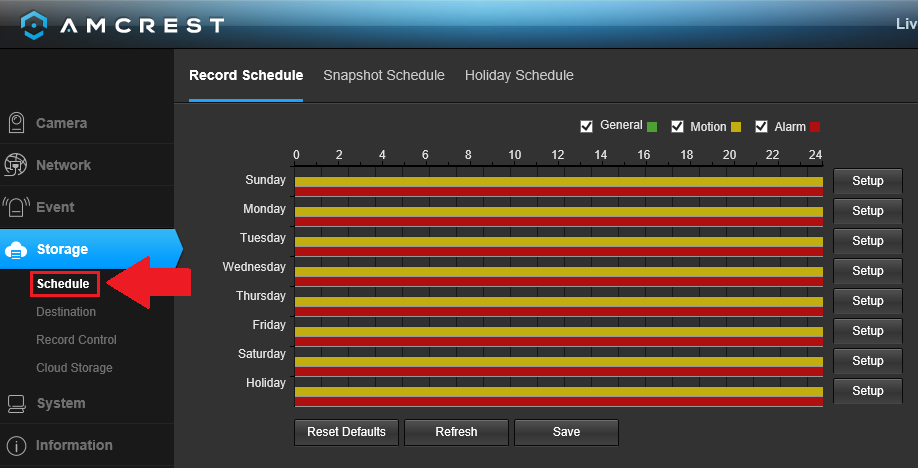 In the Recording Schedule tab you will notice a series of days on the left of the schedule and the number of hours at the top (specified in increments of 2 hours). You will also notice 3 checkboxes representing each recording type. Click Setup to begin customizing a recording schedule.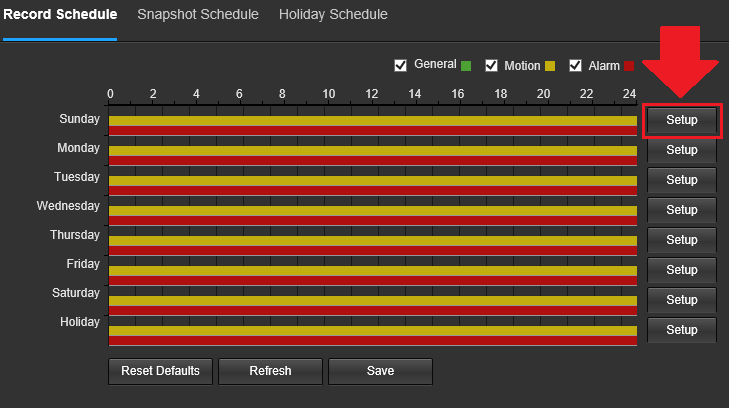 Step 3: Select which day of the week you would like the recording schedule to apply. If you would like the schedule to apply to all days of the week, click All. Select which recording type you would like to use, which in this case we will select general, motion, and alarm and set a time of day in which the type will be applied. For example, in this case the the recording schedule is set to be active from 0600 (6am) - 1700 (5pm).
Note: The timeframes will be formatted to military time.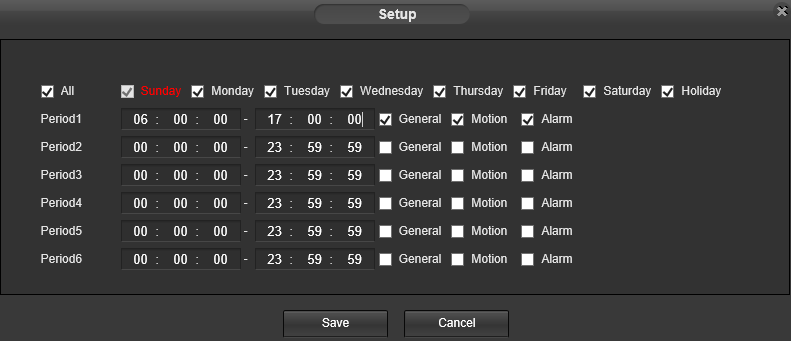 Please note, a total of 6 separate periods can be setup at a time which will provide different recording schedules to be active for different days of the week.
Step 4: Click Save to save and apply the recording schedule.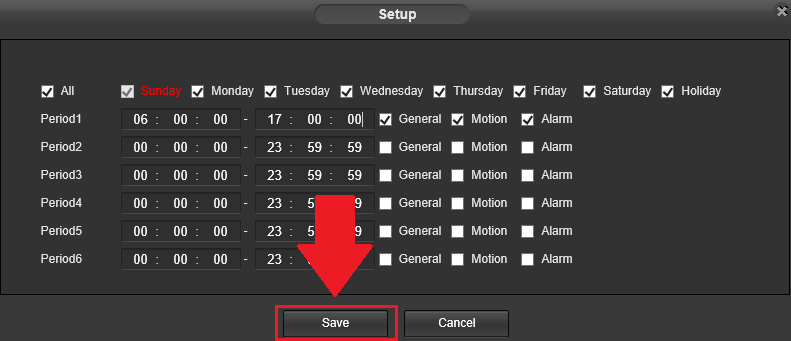 3. How to Upload/Share the Device Using Third Party Apps (YouTube, Facebook, etc)
This section will provide insight on how you can live stream your Amcrest camera to streaming platforms such as Youtube, Facebook, Twitch, etc, using castr,io. This article is applicable to all Amcrest cameras with a functioning IP address and RTSP capabilities.
Step 1: Visit the castr.io web site and sign up for an account. To signup for an account, go to https://castr.io/#pricing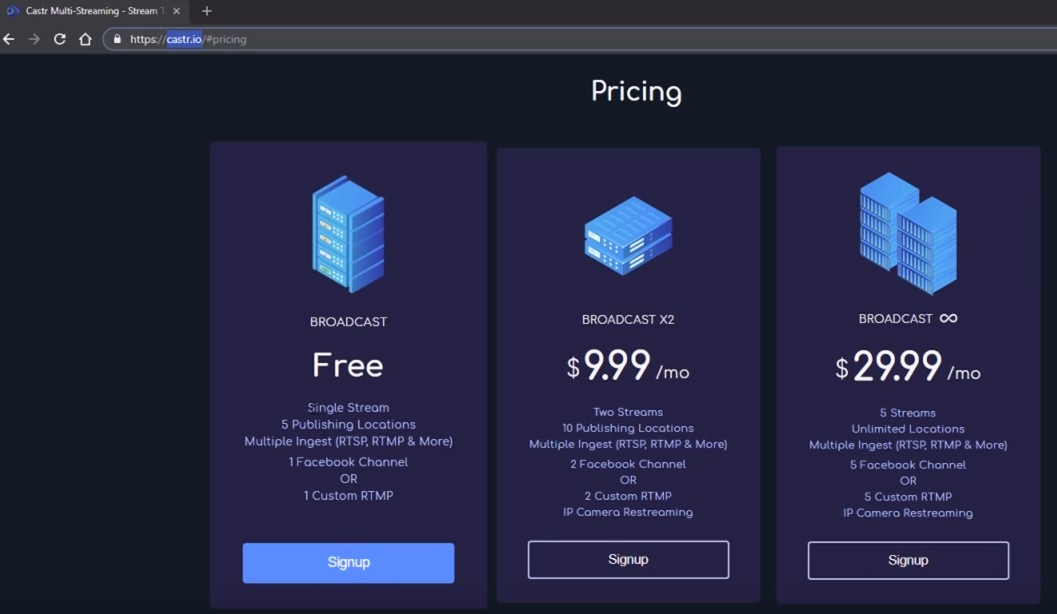 On the castr.io website you will notice 3 different plans: a free plan, which provides a single stream with up to 5 publishing locations, multiple ingest (RTSP, RTMP & More), 1 Facebook channel or 1 custom RTMP. The second plan will be the $9.99/mo broadcast x2 plan which provides 2 streams, 10 publishing locations, 2 Facebook channels or 2 custom RTMP, and IP camera restreaming. The third will be the unlimited plan which is $29.99 which offers streaming from unlimited locations, 5 Facebook channels or 5 Custom RTMP and IP camera restreaming.
In this example, we will be using the free plan.
Step 2: Once you have finished signing up for your castr.io account, click on Add Stream.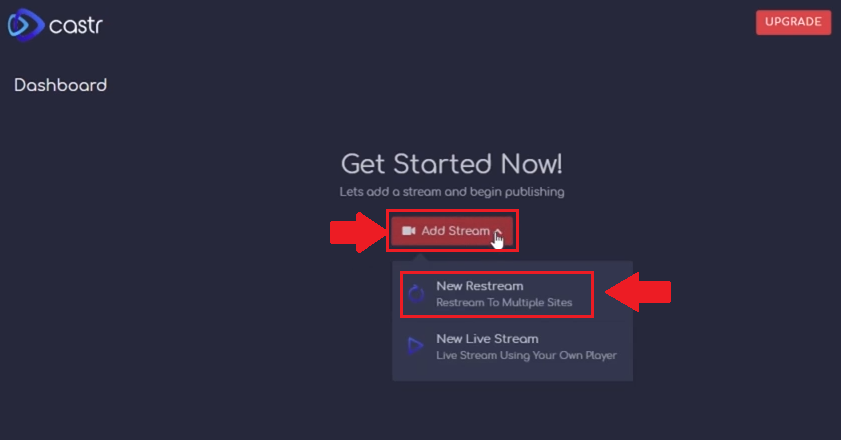 A dropdown menu will appear. If you are going to stream to multiple sites, click on New Restream, if you are live streaming to your own player click on New Live Stream. In this example, we will click on New Restream. Then, title your stream in the Stream Name field and select the hosting region that you are located in and click Save.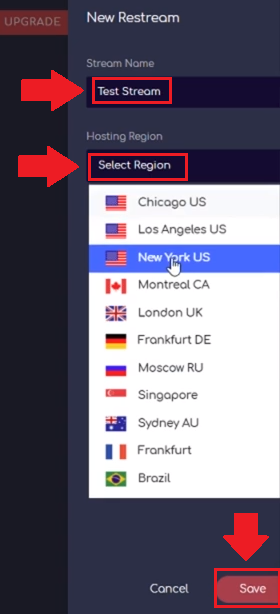 Step 3: The status will currently say, offline. To continue we need to add the platform you will be streaming on. Click on the Add Platform button.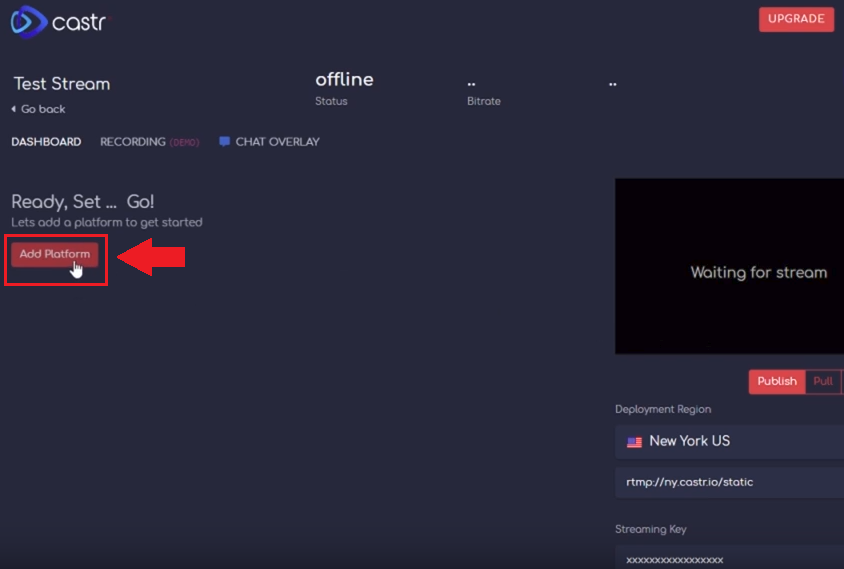 Step 4: Select the platform you would like to publish your stream to from the provided list.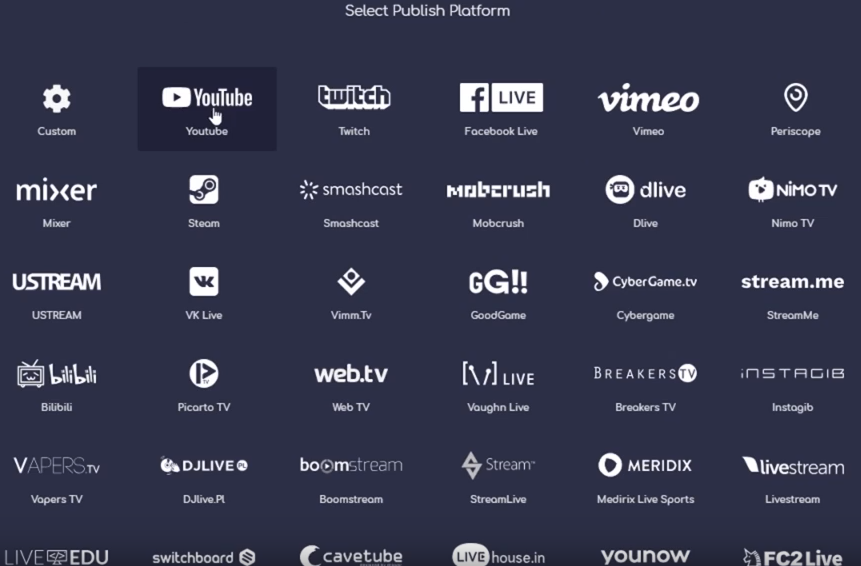 Step 5: You will notice a few options to connect in the next menu. You can connect with your platform's account directly or with a stream key from the server. For efficiency, it is highly recommended to use a dedicated stream key. Click on, Setup With Server/Key.
To access your stream key, go to your platform's account and access the stream key from your account's admin settings. For example, on YouTube, go to your Creator Studio and in the Live Streaming field, click on Events. In the events menu, click on New live event.

In the Info & Settings menu, give the stream a name and fill out any other relevant information and click on Create Event.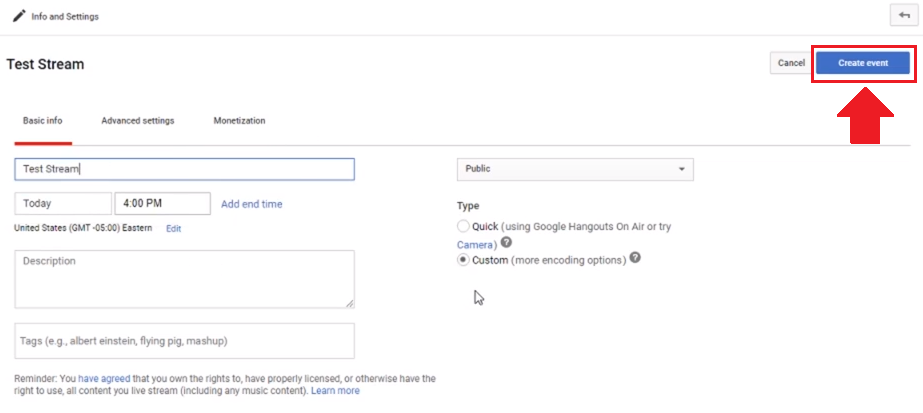 Next, click on Ingestion Settings and click select which stream key you will be using. In this example, we will be using a Single-use Stream key. Follow the steps listed on the YouTube menu. Copy the Stream Name field and navigate back to the castr.io dashboard.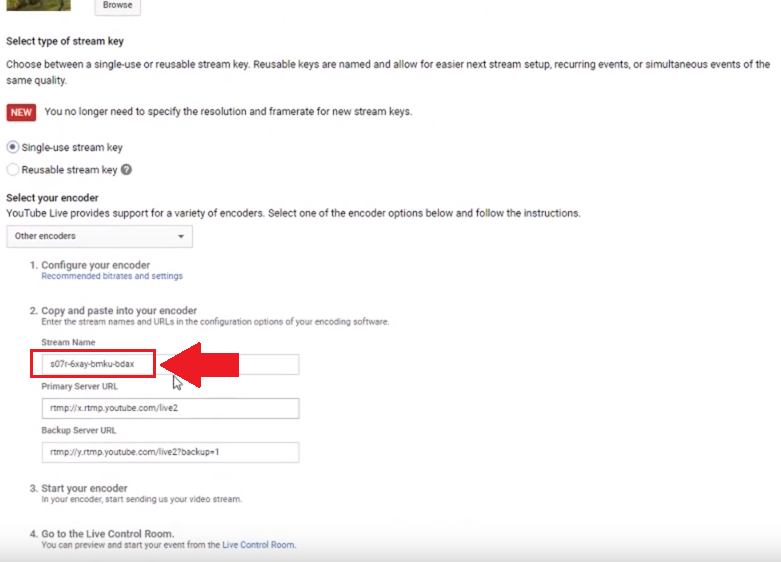 Step 6: In the castr.io dashboard, paste the information from the stream name field into the Streaming Key field and click Save.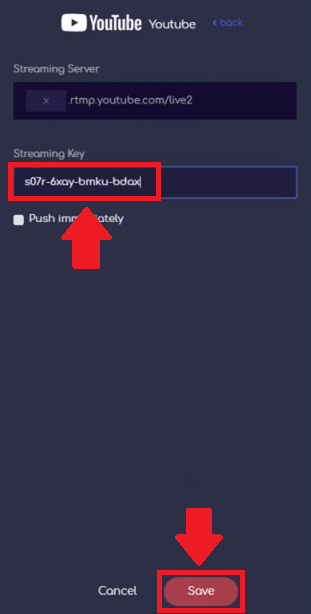 Step 7: Next, you will need the RTSP information from your camera that castr.io is going to pull from to stream your video. The format of the RTSP information will be as follows: "rtsp://UserName:Password@IPAddress/cam/realmonitor?channel=1&subtype=0 be sure to change "UserName:Password@IPAddress".
Note: To find your external (Public) IP, go to Google and type in What's My IP? Please note, the public IP will change if the router or device has been reset unless a static IP is set. Additionally, subtype=0 is for substream (lowerend resolution, and subtype=1 will be the main stream of your camera feed.
Step 8: Next, you will need access to your router so you can port forward the Amcrest camera's TCP and UDP ports to 554. This will make the feed accessible from the internet. Since every router is different, please consult your particular router's manufacturer or Google on how to port forward on your particular model router. Be sure to add the camera to your router and set the TCP and UDP ports to 554 and save.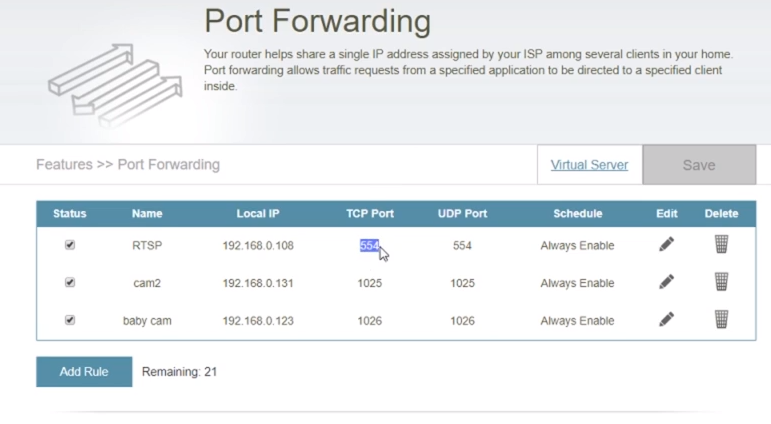 Step 9: Navigate back to the castr.io dashboard and change the stream from Publish to Pull. Then, in the Pull Source field, enter the RTSP IP Information described in step 7 and click Save.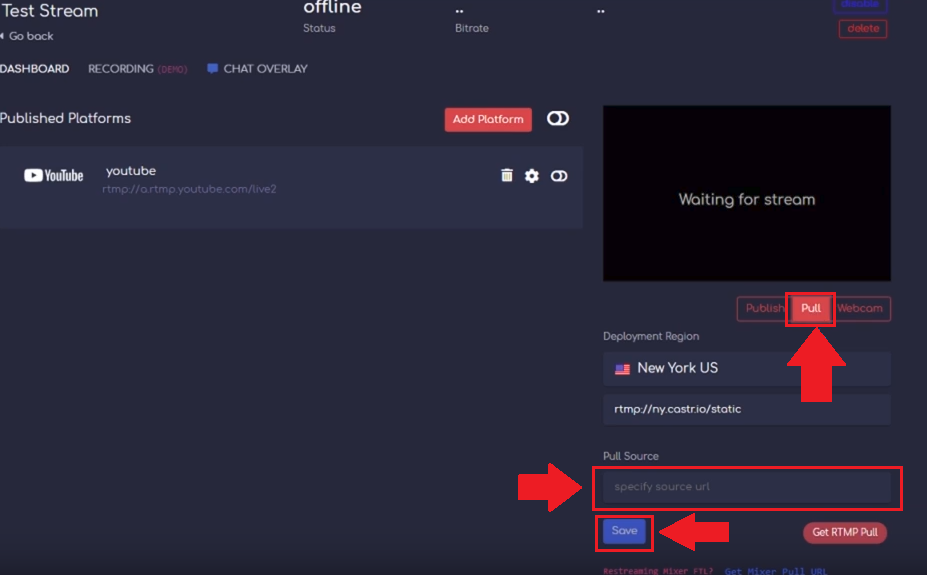 Allow the stream to pull and the URL to save. Once the media has loaded, your stream will be active and will appear in the stream window to the right.
Step 10. Click on the restream toggle switch, next to the add platform button, to allow the stream to stream to your selected platform.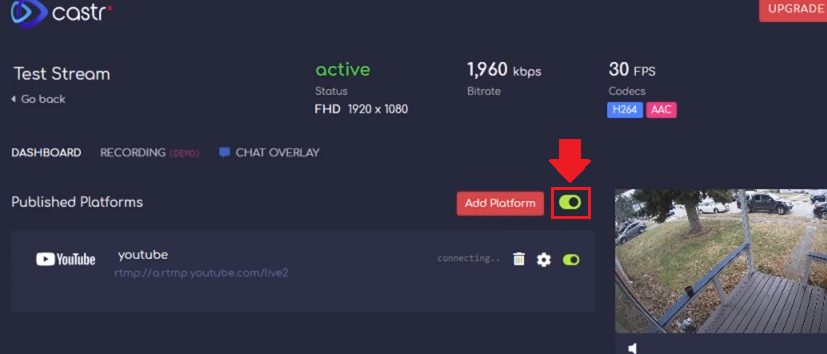 To view the stream, navigate back to your platform to preview the stream. For instance on YouTube, click on Live Control Room, click on Preview, and then click on Start Streaming. Click Ok and click on View on Watch Page to view the stream.
For a detailed video on how to perform this task as well, click here.