This feature is only available for Amcrest Cloud plans that feature a continuous storage plan. For more information on Amcrest Cloud continuous storage plans, please click here.
If you are the account owner (the first user created on your account), you can add a new user to your account in the "Manage Users" section of the "Settings" menu. Please note, additional users added to your account will have limited access and won't have the option to add other users.

Users added will have the following account rights:
- View and Download Recorded Footage
- Live View
- Adjust Email Notifications
Account Owners can optionally grant the following rights:
- Pan-Tilt-Zoom Controls
Users will not be able to:
- Add/Delete Cameras
- Add/Delete Users
- Add/Delete Groups
- Add/Delete Schedules
- View/Modify Camera Settings
For more information on how to add additional users to your admin Amcrest Cloud account, please refer to the information provided below.
Step 1: Access your Amcrest Cloud account in a web browser and access the Settings menu in the upper right hand corner of the interface.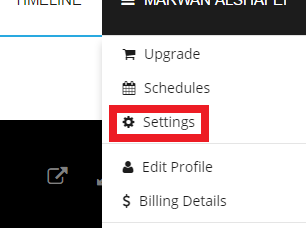 Step 2: Click on "Manage Users", and click on "Add User" to start adding additional users.

Step 3: Enter the new user's email address, name, and then select the group(s) you would like them to have access to.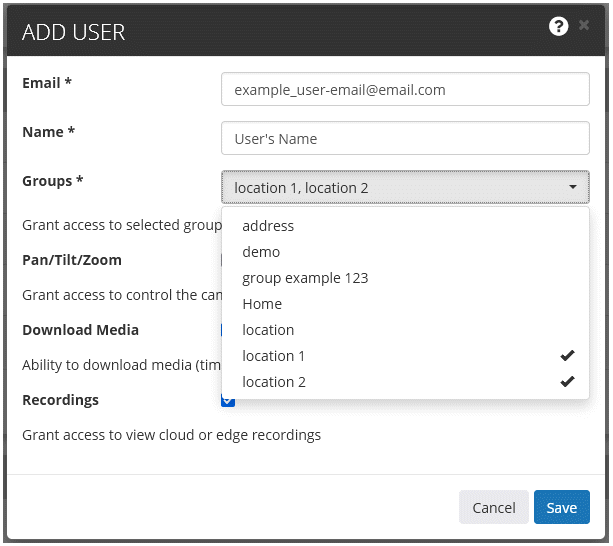 There are a few options you can choose from when creating the account, the default is to have Pan/Tilt/Zoom unchecked (this gives the user the ability to move the camera position if it has PTZ functionality), while Download Media (ability to download normal footage or time-lapse footage) and Recordings (Ability to view recorded footage, turned off they would just have live view only) will be on by default. Note that turning Recordings off automatically turns off Download Media.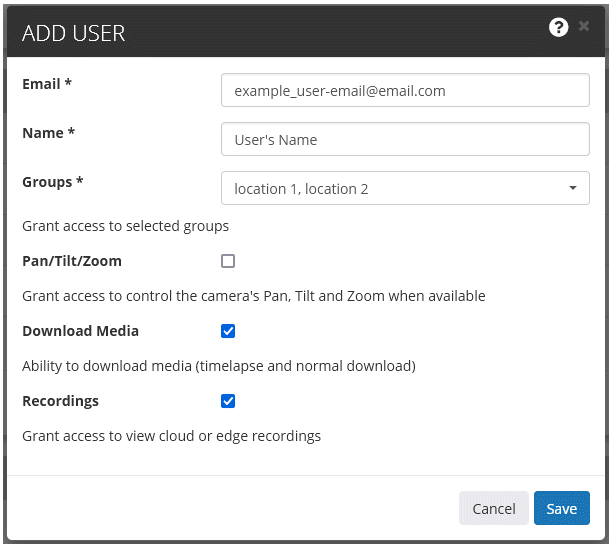 Once you click on save, an email will be sent to the user asking them to set up their password. They will now be able to access the cameras via the Web portal or the Mobile app using their email address and the password they chose.
Keep in mind that for additional users, their email address is also the username that they need to use to login.