Amcrest Cloud Access On A Laptop/PC
Amcrest cloud allows you to connect your IP camera to a cloud-based service that allows you to store and access recorded events from a secure location from anywhere in the world. For more information on cloud setup as well as plans, we offer please follow the instructions provided below.

The Amcrest Cloud can also be set up using your smartphone on iOS and Android. For more information on how to set up the Amcrest Cloud on your smartphone click here.
Note: The Amcrest Cloud is applicable to Amcrest PoE and Wi-Fi IP cameras only. Amcrest NVRs and DVRs cannot be added to the cloud. Additionally, other products such as Amcrest Smart Home cannot be added to the Amcrest Cloud as Amcrest Smart Home provides a separate cloud service. For more information about Amcrest Smart Home, click here.
Cloud Access Setup
Step 1: Connect the camera to a power supply using the included power adapter.
Step 2: Set up your camera on the internet and verify its connectivity. This can be through either Wi-Fi or via a direct connection with an Ethernet cable. For more information on how to set up your camera click here.
Step 3: Once your camera has been set up on the internet, visit https://amcrest.com/cloud
Step 4: To begin you will need to register for an Amcrest cloud account. To register for an Amcrest Cloud account, click on the Register button located here: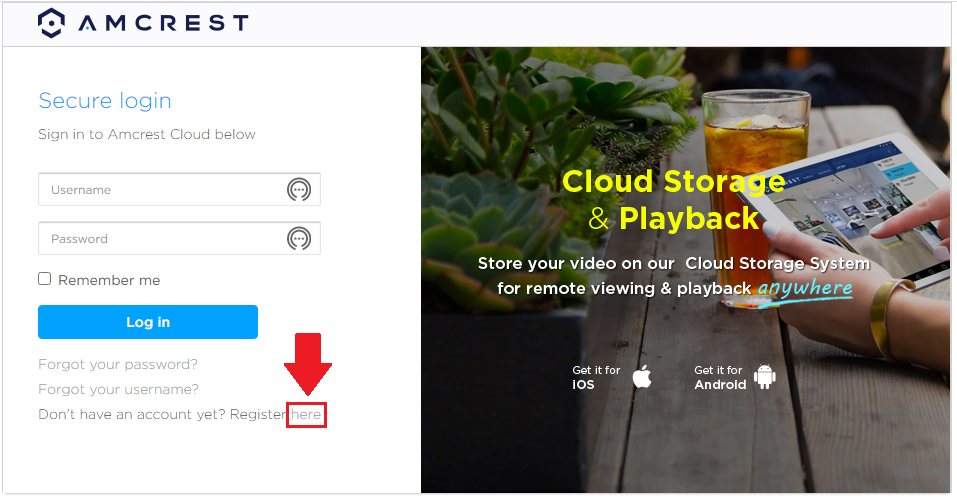 Step 5: Select which plan you would like to register your account on and select "Sign Up Now" to begin.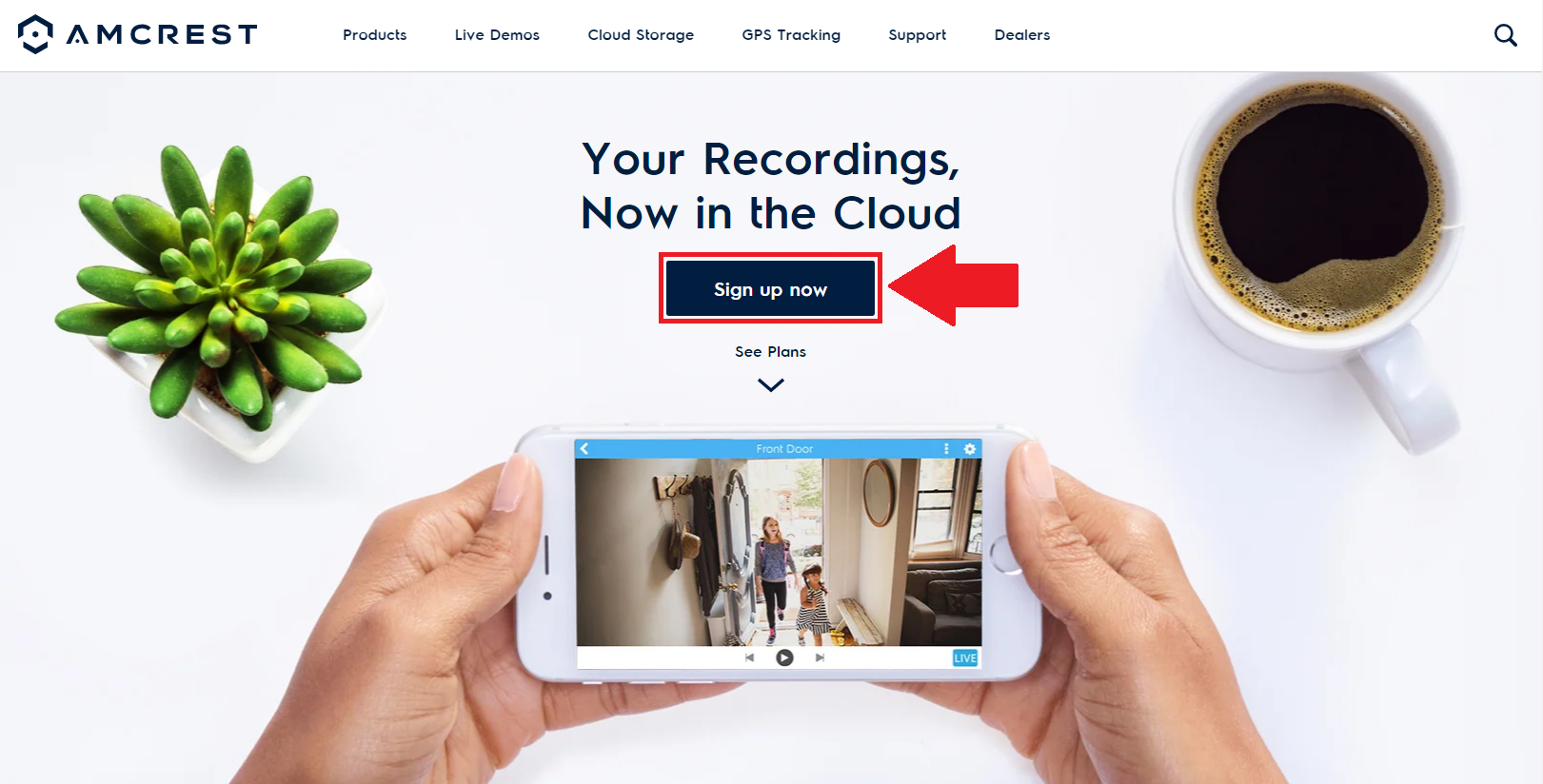 Step 6: Choose a premium cloud storage plan. There are 2 types of premium cloud storage plans, Motion Recording and Continuous Recording plans.
Motion Recording Plans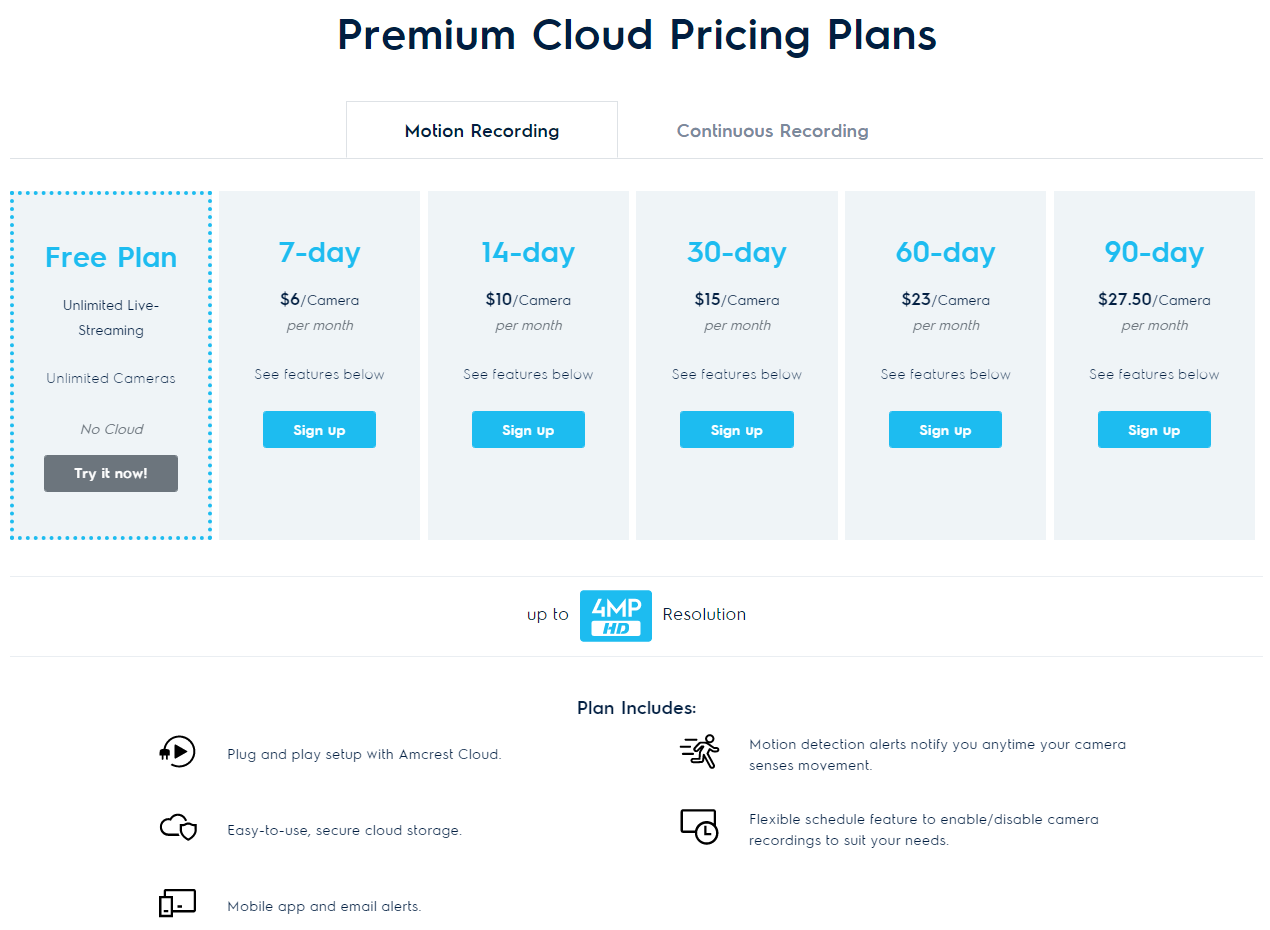 Note: The free plan includes unlimited streaming only for an unlimited amount of cameras. However, there is no cloud storage available.
Continuous Recording Plans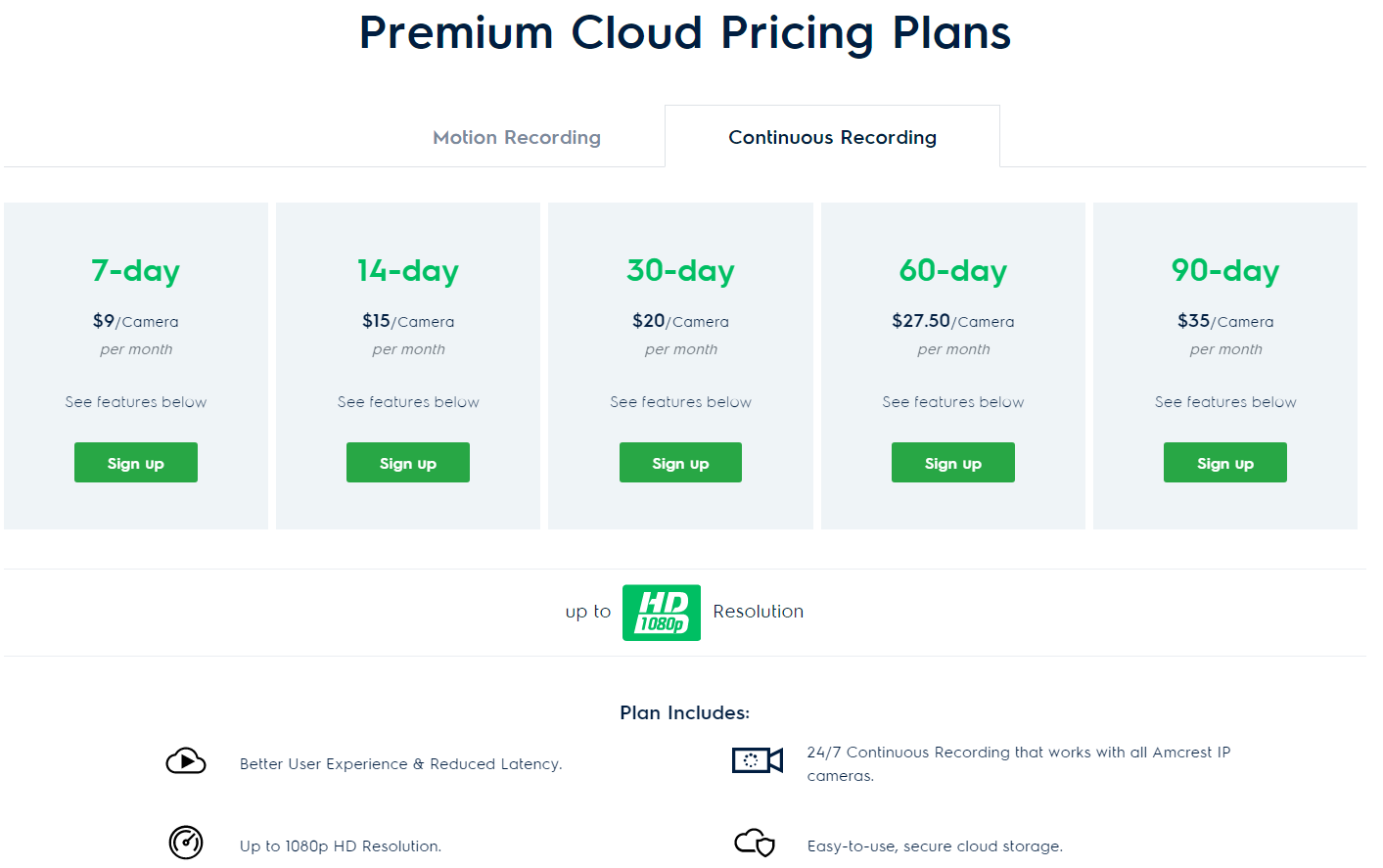 Click Sign Up to register for a cloud plan.
Step 7: Fill out the form and click Register to proceed.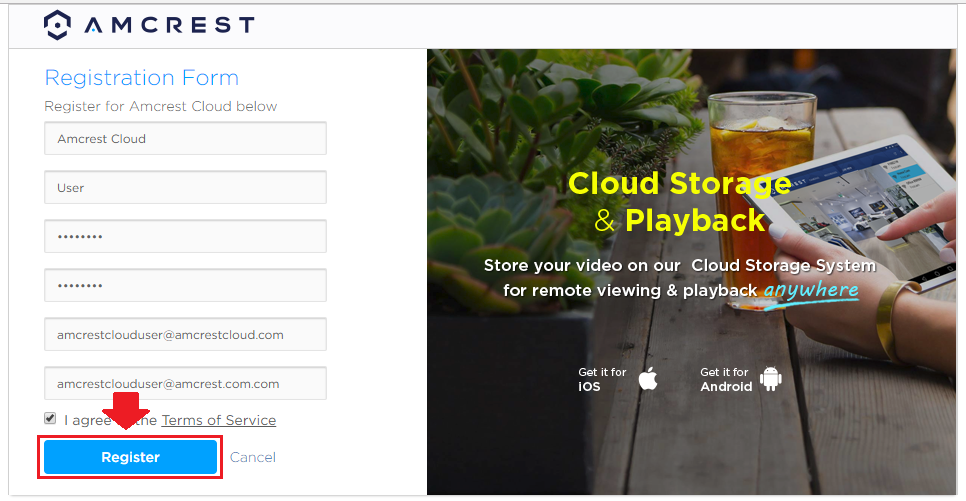 Note: Be sure to agree to the Terms and Service statement before pressing Register.
Step 7: Once you have successfully registered for an Amcrest Cloud account you will need to begin adding a camera. Click the Add Camera button to proceed.

Step 8: Select Amcrest and give the camera a name. Next, enter the camera's S/N. This information can be available on the serial tag located on the bottom/side of the device. After entering in the serial number for the device, click Next to continue.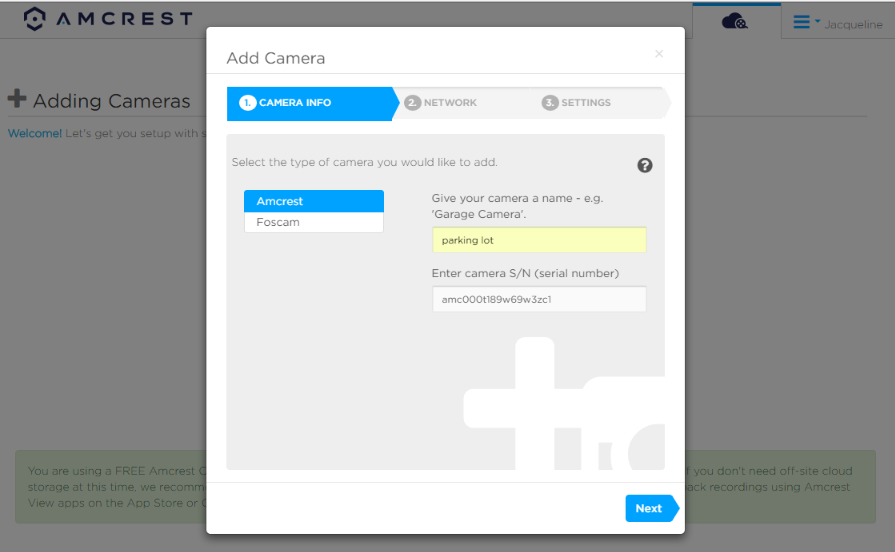 Step 9: Insert your camera's login credentials. For more information on how to initially set up your camera on your computer please refer to step 2.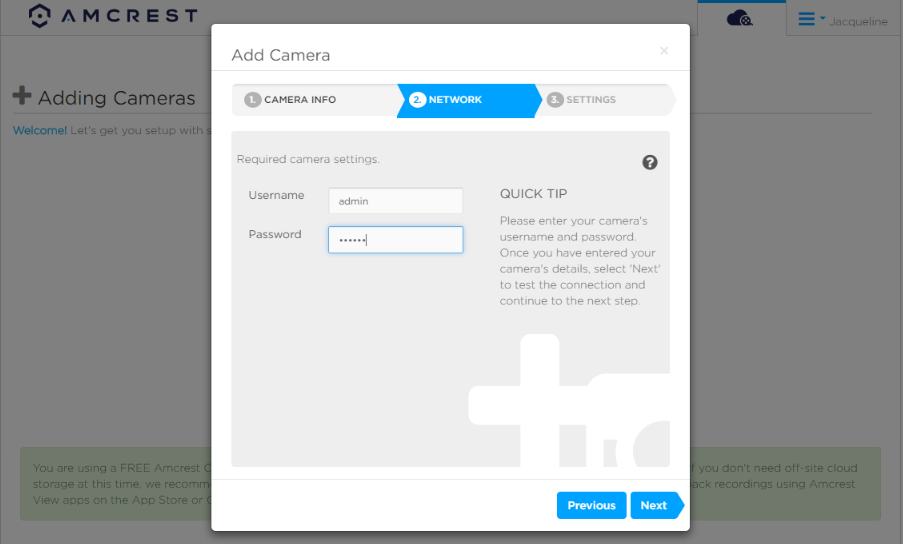 Step 10: On the settings page, you can adjust optional preferences for your camera. Once settings have been adjusted, click Finish. Your camera is now successfully set up for cloud access and storage!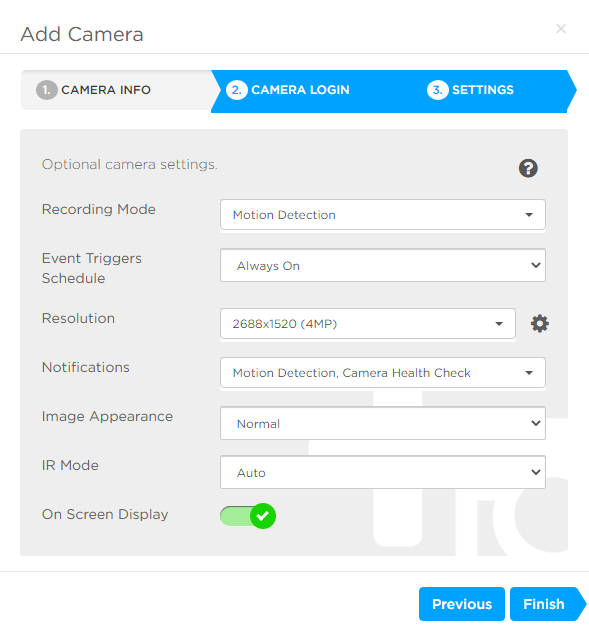 Note: Please be advised, setting your camera up on Amcrest Cloud will allow the cloud settings to overwrite and will take precedence over all saved settings on other Amcrest platforms.
In this platform you can view your camera live or watch recorded clips using the menu buttons on the top right of the page.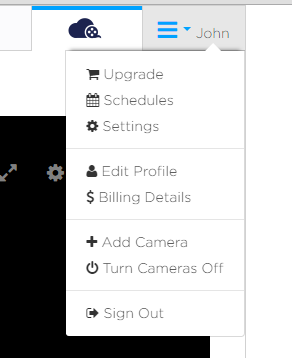 Note: You can also use the Amcrest Cloud app on iOS and Android to play recordings, and view your camera on your mobile device. For more information on how to setup Amcrest Cloud on your mobile device, click here.
For questions regarding Amcrest Cloud technical support: https://amcrest.com/cloudsupport
Additionally, if you have any billing inquiries or issues related to cloud billing, please feel free to fill out a billing inquiry form at https://amcrest.com/billing-support