The ANPR option allows the user to sync vehicle block and allow lists as well as view license plate data if a license plate reader camera is applied to the NVR. Please note, this option is only applicable to license plater reader cameras, all other models that do not support ANPR will not be compatible with this option.
This option is for license plate detail retention. The camera must be set up for ANPR first before applying it to the NVR for retention. For best results, please make sure the LPR camera is registered to channel 1 in the system. All other ANPR camera settings, such as LPR capture areas, will have to be modified in the license plate camera directly using a web user interface. For more information on configuring LPR settings, including capture area, click here
Step 1: Log into the web UI or local GUI for your NVR and access the AI menu. Select ANPR. For more information on how to access the web UI, click here.
Note: If the IPC has any vehicle block or allow lists you you would like sync, Enable the Sync Vehicle Blocklist/Allowlist. Once synced, new plate information can be entered from the NVR directly using the Block/Allow List option located in the Database menu.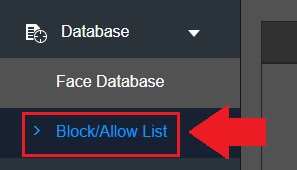 Step 2: Once license plate events have been detected, access the Smart Search menu and select License Plate Data.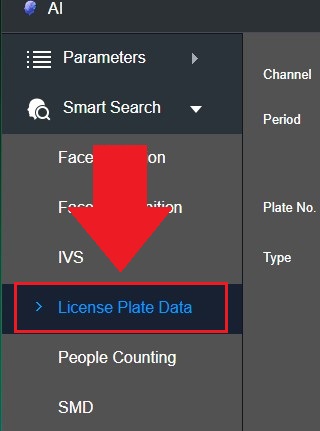 Step 3: Input a custom time range for the ANPR events, or use the Period menu to select a range of events you would like to view. Click Search.
Note: If you would like to view only specific plate numbers, enter the the license plate details into the Plate No. field. To view only plate events from detected