This method allows the user to add a camera which supports Generic H.264 into the Amcrest Cloud. The RTSP port of the camera must be port forwarded before proceeding. Please consult the documentation for your device regarding its specific RTSP path, the majority of devices may use "cam/realmonitor?channel=1&subtype=01" however, it may vary model to model.
It is also recommended to have a static IP set for your device before proceeding. For more information on how to add your camera using this method, please refer to the information provided below.
Note: MJPEG or H.264, which one do I choose? Typically older cameras are MJPEG cameras where newer ones have H.264 support. Please consult your camera's documentation as some support both.
Step 1: Log into your Amcrest Cloud account and add the camera. Select Generic H.264 from the camera type menu, give the camera, and select the camera model from the drop down list. If the model is not available, select Generic from this menu. Click Next.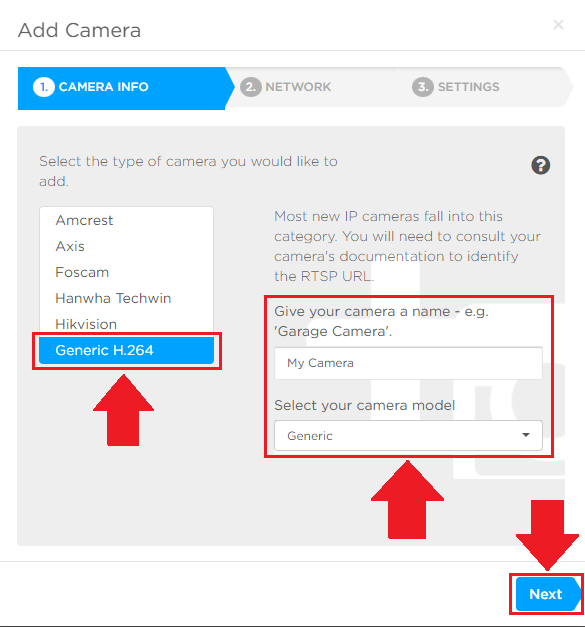 Step 2: Enter the username, password, and port forwarded RTSP port into the interface. Enter the RTSP path, and click Next.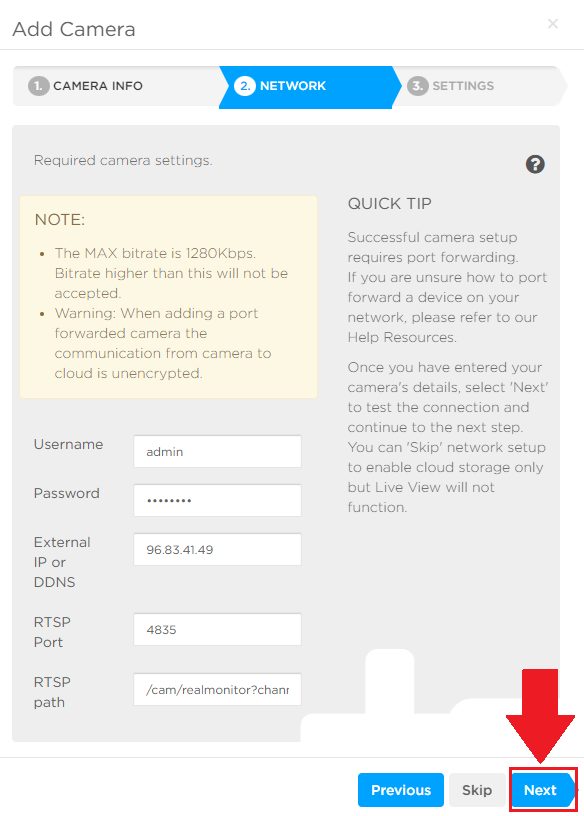 Note: The max bitrate for adding IPCs in this method is 1280Kbps. Anything above this bitrate may experience issues with loading live view, etc.
Step 3: Select the Recording Mode (Continuous or Motion Recording). Make sure to take note of the FTP server, username and password, as these will be used to record motion events. Set the FTP credentials on you camera using these credentials to begin using the camera cloud. When done, click Finish.