Smart Motion Detection (SMD) uses an advanced algorithm to differentiate human and vehicular shapes within a scene and send alarms only when a person or vehicle is detected. This is the default AI mode for the device and is useful to reduce unwanted or false alerts in the system. For more information on how to set up SMD please refer to the information provided below.
Step 1: Open a web browser and log into the web UI for your device. For more information on how to access the web UI, click here.
Step 2: Click on the AI option on the main menu In the Parameters section, click on SMD. Ensure the Enable option is selected. Use the sensitivity dropdown menu to select a motion sensitivity. Motion sensitivity can range from low, medium, and high. Select an effective target (object filter) option (Human, Vehicle). Both object filters can be enabled at the same time if needed.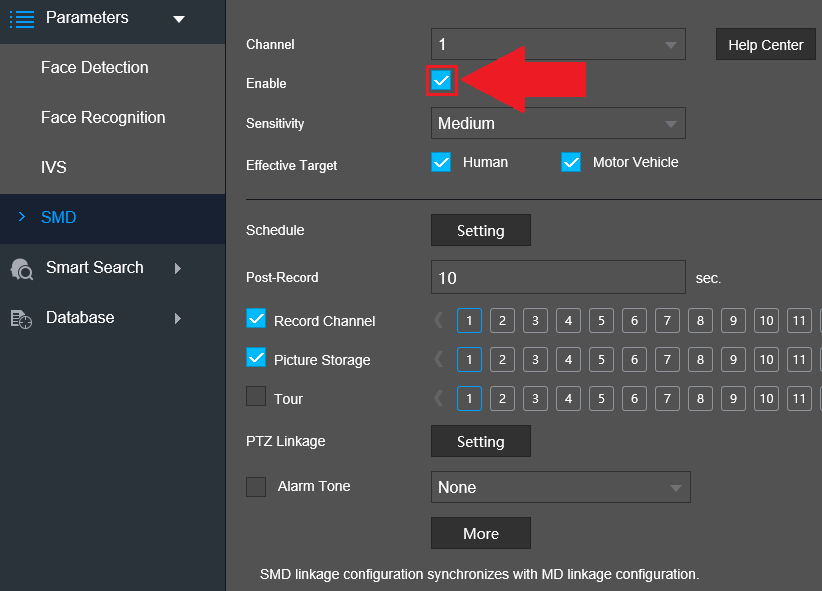 Step 4: Click OK to save the SMD settings to the system.
Viewing an SMD Event
Any SMD data retained on the system can be viewed using the SMD Smart Search interface or using the playback menu if an SMD schedule is set in the system.
To view SMD events using the SMD smart search interface, click on the SMD option located in the Smart Search menu. Enter the start and end times of the event and click Search. A layout of all SMD events will be displayed. To view the event, select the event from the interface and click the play button next to the event in the interface.