Port forwarding your device will allow you to view your device's IP address outside your network so you can view your device remotely. This process will require you to have direct access to your router to allow the device's TCP. UDP, and HTTP (TCP/UDP) ports to be open in your network. Please make sure the device and your computer are on the same network segment during setup. For more information on how to port forward your device, please refer to the information provided below.
Step 1: Open a web browser on your computer and log into your device's web user interface (web UI). For more information on how to access the web UI, click here.
Step 2: In the Management section, select Network.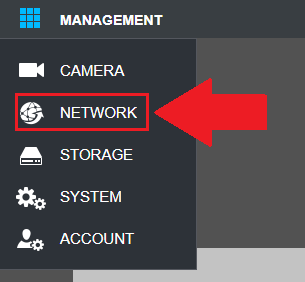 Step 3: In the Network menu, select the Connection tab and enter an HTTP port number into the HTTP Port field. This will be the port number which will need to be entered at the end of the URL to access your device remotely after it has been port forwarded in the router. For instance, in this example we will be using HTTP port 37779 however any open port between 1~65535 can be entered into the system. Please note, the TCP, UDP, and HTTP ports as they will need to be port forwarded in your router after this process is complete. Click Save.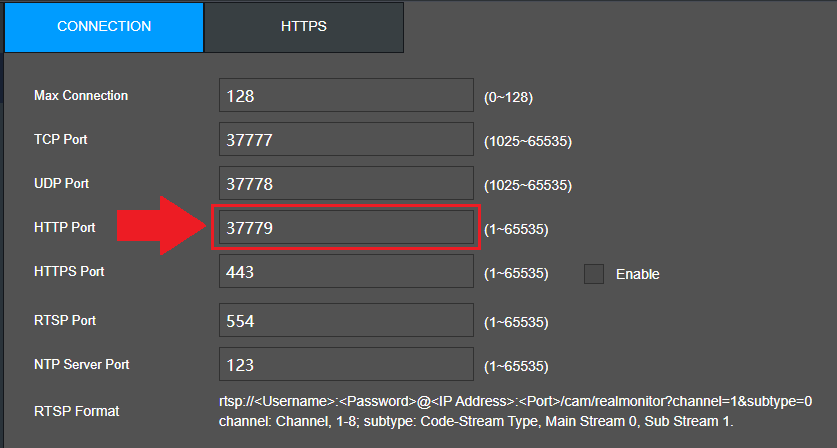 The web UI will reload and the new URL will be displayed in the browser denoting the HTTP port number at the end. For example, 192.168.X.XXX:37779 depending on your default gateway.
Step 4: Access the admin portal or interface of your router. This will be based on which brand, model, or type of router you have for your network. For comprehensive guides on how to forward ports for almost every router and hub ever manufactured please visit portforward.com
Step 5: Once the TCP, UDP, and HTTP (TCP/UDP) ports have been properly forwarded in your router please verify the HTTP port has been properly forwarded. To verify this information, please visit canyouseeme.org enter the HTTP port into the Port to Check field and click Check Port.

If the port is properly port forwarded, the page will display a Success prompt. If it fails, please make sure the ports have been properly entered into your router and try again.
Step 6: To access your device remotely, access a computer or smart device remote from your network and enter the external IP (Your IP) and the HTTP port number into a web browser. For instance, 98.196.XX.XXX:37779. The web UI will load and you can now access your device remotely.