The battery life of your GPS tracker can be checked in the app or in the web portal using a web browser. Please do not let the battery go below 10% if the battery is below 10% charge please make sure to charge it or connect using a power supply. For more information on how to verify the battery life of your GPS, refer to the information provided below.
Verifying Battery Life in the App
Using the Amcrest GPS app, log into your GPS account and tap tap on the Map option located in the main menu.
Once the map loads, each device on your account will populate its exact coordinates. Tap on the pinpoint you would like to verify and a list of information will appear, including battery percentage.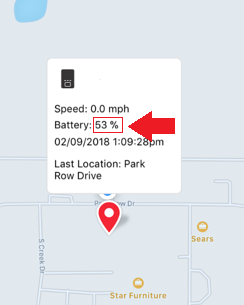 Verifying Battery Percentage Using the Web Portal
To verify battery percentage using the web portal, visit amcrestgps.net and log into your GPS account. In your account, click on the device you would like to verify. The battery life percentage for the device can be found in the dropdown menu displayed on the screen.
Additionally, the device will be pinpointed on the map. To verify battery life percentage on the map, click on the pinpoint displayed on the map to show information related to your device. The battery life will be displayed in this menu as well.