Failed to Connect Issue?
Most failed to connect issues are related to network connectivity. The integrity of your network plays a major role in the efficiency of how your device connects and functions on your network. The integrity of your network can be measured by three with three major factors; network speed, location, or other external factors. The following article is designed to assist you with resolving your device's failed to connect issue and provide information on how to troubleshoot and optimize your device's performance on your network.
Network Speed
The most common factor when determining connection issues can be directly related to speed. If the speeds on your network are insufficient you will not be able to connect to your devices properly. For instance, IP cameras are heavily impacted by upload speeds. A typical IP camera at 720p - 1080p requires a minimum of 1.5Mb/s - 2Mb/s of upload speed per camera to function. To properly diagnose the integrity of your network, it is highly advisable to run a speed test to verify this information. To run a quick speed test on your network click here. 
Note: While performing the speed test, please note the upload speed and download speeds are within standards. If you find an issue with your network speeds, contact your internet service provider (ISP) for more assistance.
Additionally, it is also important to note that if you have other multiple devices on your network such as, laptops, gaming consoles, or other streaming devices that require large amounts of bandwidth it could create congestion on your network. These devices will be competing for connectivity and may take precedence over some devices that are trying to connect onto your network, such as IP cameras.   
Location
The location of your device is an important factor to consider as well. Distance can have a dramatic impact on network performance. If the device is too far from the router for instance, there may not be enough signal strength to reach the device. Please be aware, this can vary on a case by case basis depending on the precise specifications and capabilities of your router and network.
If you are experiencing distance issues while operating on Wi-Fi, having an external Wi-Fi extender may be an advisable option to help boost the signal strength from the router to your device. If a Wi-Fi extender is not a viable option, it may be best to consider moving the device to a more sufficient location, preferably areas that are closer to the router or are not obstructed by other external factors such as walls, or other contributing objects that could cause interference. 
If you have a POE device on your network, ensure the Ethernet cable has adequate distance to provide enough power and signal strength from the POE switch/device and the POE network is setup properly. For more information on proper POE setup, refer to the image provided below.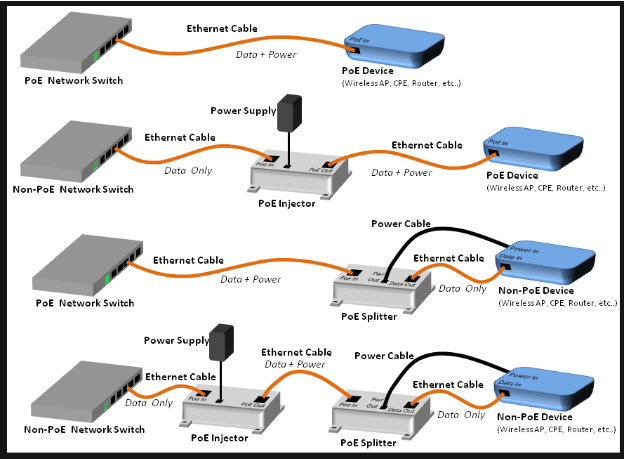 External Factors
In relation to network connectivity there can also be several underlined external factors that can play a role in signal degradation. For instance, common features in the home such as, walls, microwaves, cordless phones, baby monitors, or other such influences, can cause signal interference with the connection. To reduce the possibility of interference from these devices, it is imperative to setup the device in an area close to the router and away from obstructions. 
Troubleshooting
If the issue still persists, there are some common troubleshooting techniques you can take to help resolve the issue. 
1. Power Cycle - To power cycle the device, please remove the device from its power source and allow the device to shut down. This should take approximately 15 - 20  seconds to complete. Once complete, plug the camera back in with its power supply and allow the device to boot back up. When the device is ready, try to connect to the device again.
2. Factory Reset - If a power cycle of the device was not successful, a factory reset may need to be performed. To perform a factory reset on your device, locate the reset switch on your device and hold the reset switch down for about 45 seconds. The device will begin to reset
3. Contact Support - If further assistance is needed to help resolve the failed to connect issue please feel free to contact our support department directly and we will be happy to assist. You can contact us by email at support@amcrest.com or by giving us a call at 1-888-212-7538.