H.265 provides a more advanced technology than H.264 compression and allows the device to reduce file size which helps to reduce required bandwidth without sacrificing frames per second or resolution. Most Amcrest products, such as our 4K and 5MP cameras, are H.265 compatible, however, for maximum compatibility when accessing your device in a web browser or third party applications, our H.265 compatible products will be factory defaulted to H.264. For more information on H.265 compression click here.
Please note, the bitrate for the device can also be adjusted if needed to increase the overall performance of the camera or cameras on your network. This article will also provide instructions on some recommendations for adjusting the bitrate to best fit your requirements. To calculate proper video bitrate, click here.
Note: These values are only based on estimations, however, are applicable to most situations.
Switching to H.265 Compression
Step 1: Log into the web user interface (web UI) of your device. To access the web UI, ensure your computer is connected to the same network segment as your cameras and open the Amcrest IP Config Tool. A list of connected device's and their IPs will be displayed. Enter the IP address of the camera into a web browser and press Enter, the interface will be displayed. Log in using your camera's username and password.
Step 2: In the web UI, navigate to Setup>>Camera>>Video then in the Encode Mode dropdown menu, select H.265. Click Save.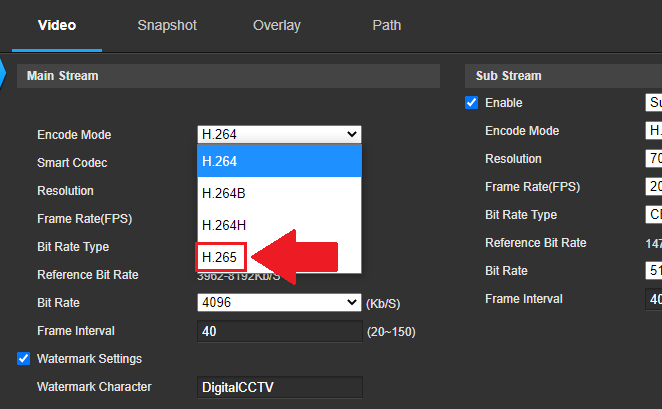 Adjusting Bit Rate
Since H.265 compression uses roughly 30% fewer resources than H.264, the camera will typically come default to a preset bitrate when switching to H.265. For instance, when switching to H.265 on a 4K camera, the bitrate may be defaulted to 8192 Kb/S or 4096 Kb/s, however, adjusting the bitrate to a lower value may help to increase the efficiency of the camera while viewing playback or watching the live view.
In this menu, you will notice a Bit Rate Type menu, this dropdown menu allows you to choose between a constant bitrate (CBR) or a variable bitrate. A constant bitrate allows the bitrate to remain constant whereas a variable bitrate allows the system to choose a bitrate. It is highly recommended to keep the bitrate type as CBR to keep the bitrate consistent.
Please note, when using a 4K camera, it is recommended to keep the bitrate around 1792 Kb/S, however, different values may be applicable depending on your specific network requirements. For more details on choosing an optimal bitrate for a 4K or 5MP IP camera, please refer to the provided table below.

To input a new bit rate value, click Customized option in the Bit Rate dropdown menu to enter a custom bitrate value into the interface. Enter the bit rate value into the provided field and click Save.