Smart Motion Detection (SMD) uses an advanced algorithm to differentiate between human and motor vehicle shapes within a scene and send alarms only when a person or vehicle is detected. SMD is useful to reduce false notifications from objects such as birds, trees, animals, etc. Please note, SMD and general motion detection events are linked in the software therefore an SMD event will be registered as a motion detection record type in the playback menu. SMD only allows the camera to detect an event if a moving human or vehicle is detected by the camera.
For more information on how to set up smart motion detection on your system, please refer to the information provided below.
Step 1: Log in to the web user interface (web UI) for your camera. For more information on how to access the web UI for your camera click here
Step 2: Click on Setup>>Event>>Smart Motion Detection and click Enable.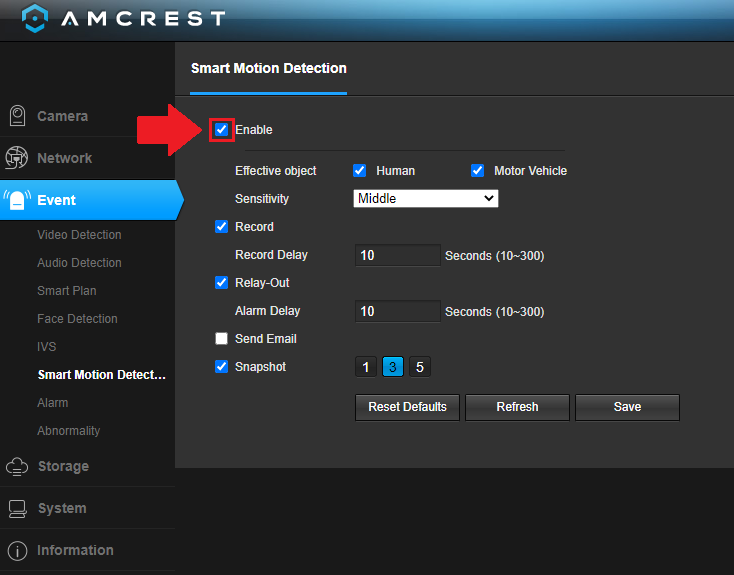 Step 3: Use the effective object filter options to allow the device to detect between human or motor vehicles. Both filters can be enabled at the same time if needed to better detect a motion event. Click the Record checkbox to allow the rule to be recorded and click Save.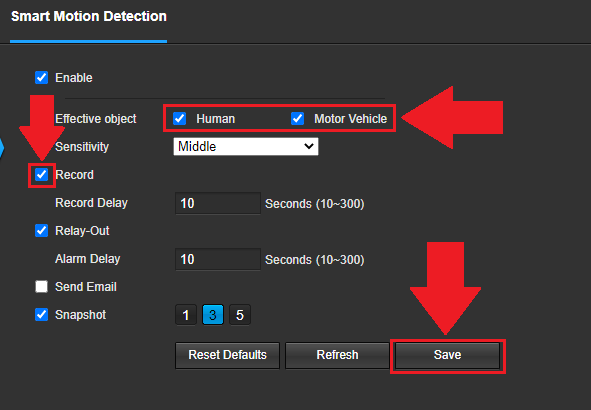 Note: If you would like a snapshot of the event emailed to you once it has been detected by the camera, click on the Send Email checkbox. Please make sure email setup is established in the camera before enabling the send email option. For more information on how to set up email notifications, click here.