SFTP stands for Secure File Transfer Protocol, it uses a secure shell encryption to provide a higher level of security when receiving files from an Amcrest device. Most Amcrest devices feature SFTP as a recommended setup method for FTP. Using SFTP offers several benefits as it provides a more secure, encrypted connection while transferring large files such as those related to video recordings, AI, and motion events. SFTP also features increased speed as well when transferring files and is more efficient in transferring multiple files from one server to another simultaneously.
Please make sure you have access to a properly configured SFTP server before proceeding. Please note, the SFTP protocol will use port 22 instead of port 21 to transfer files. For more details on how to set your recordings to record to an SFTP server, please refer to the information provided below.
Step 1: Open the web user interface (Web UI) of your camera using a web browser. For more information on how to access the web UI, click here.
Step 2: Navigate to Management and click on Storage.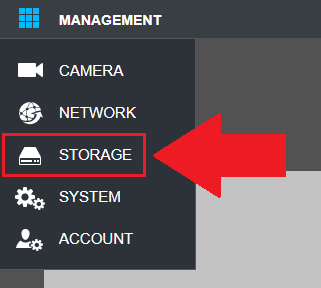 Step 3: Click on the FTP tab and ensure the SFTP (Recommended) is enabled.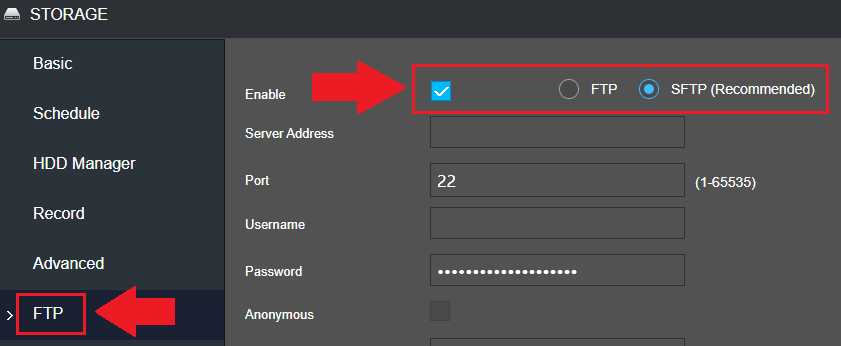 Step 4: Enter the server address, username, password, and remote directory folder into the appropriate field. In the Port field, make sure the port number is set to 22. A single channel can be specified, however if you would like all events from all cameras connected to the NVR be sent to the SFTP select All in the Channel dropdown. The NVR can send these events on a schedule (specific time and day of the week) or can apply to all by selecting All in the Weekday dropdown menu.

Select whether you would like either motion (Trigger) events to be sent only or if you would like Regular (continuous) recordings to be saved to the SFTP. Both can be enabled at the same time for each schedule if needed.
Step 5: Click Save.

Step 6: Click on the Test button to test the connection status to the SFTP server.

The events detected by the device will now be directed to store and can be accessed in the SFTP remote directory folder specified.