If you are using an outdoor camera and it is not properly weatherproofed, the Ethernet port can become corroded or unusable. For more information on how to properly weatherproof your device, please view the informational video provided below:
However, if the connection becomes corroded or weather damaged, this may propose a need to replace the Ethernet port on the camera. The Ethernet wiring on the camera side differs from that of a typical RJ-45 Ethernet cable's wiring.
Below is a representation of how to apply these concepts to a typical RJ-45 connection.
Below is a description of the basic functionality of each wire associated with the Ethernet port pins on your camera:
| | | |
| --- | --- | --- |
| Pin | Name | Description |
| 1 (Brown) | TX+ | Tranceive Data+ |
| 2 (Purple) | TX- | Tranceive Data- |
| 3 (Orange) | RX+ | Receive Data+ |
| 4 (Yellow) | N/A | N/A |
| 5 (N/A) | N/A | N/A |
| 6 (Blue) | RX- | Receive Data- |
| 7 (Grey) | N/A | N/A |
| 8 (N/A) | N/A | N/A |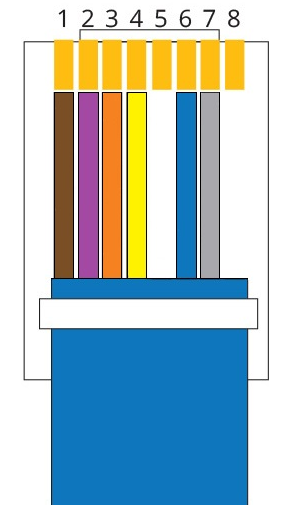 Some other cameras may vary in their pin layout. Below is a description of the basic functionality of each wire associated with the Ethernet port pins these cameras: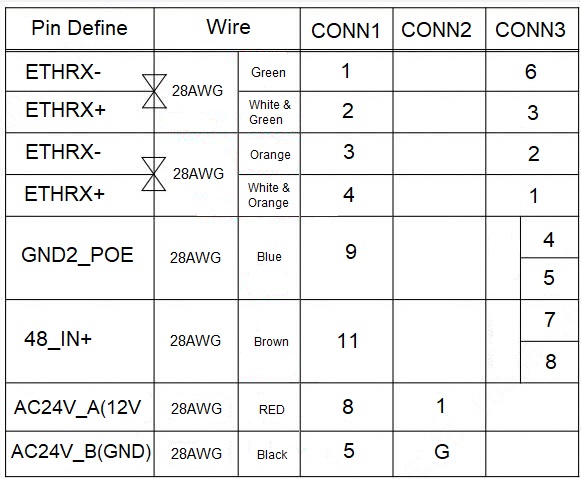 Cameras with external mic/speaker output wiring, such as the IP8M-2493E, etc, the diagram may be different. Please refer to the information below for more details