Push notifications, are events sent to your phone which let you know a motion or other event has been detected by the camera. These actions can range from a motion event being detected by your device by a call coming through from someone using your Amcrest WiFi doorbell.
Note: If you are adding your device in the Amcrest View Pro app, please make sure to enable push notifications using the Amcrest Smart Home app directly, not the view pro app.
Activating Push Notifications
Push notifications should be on by default, however, can be turned enabled or disabled using the Amcrest Smart Home app. These settings are device based and can be disabled or enabled per device associated with your Amcrest Smart Home account. To turn push notifications on or off, log into your Amcrest Smart app and select the device and click on the settings icon.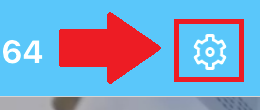 Scroll down and locate the push notification toggle switch. This option allows you to enable or disable push notifications for your device.