As a security measure, your DVR/NVR will lock your account after so many failed attempts. This is implemented to prevent unauthorized users from continually attempting to gain access to your system without consent.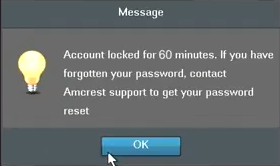 For efficiency purposes, it is highly recommended to have each password associated with the device, such as Amcrest Surveillance Pro, the Amcrest View Pro app, etc. identical to avoid any future account lock issues.
While creating a new password, it is recommended to select a password that is a minimum of 8 characters. The password can contain a combination of upper and lower case letters as well as numbers.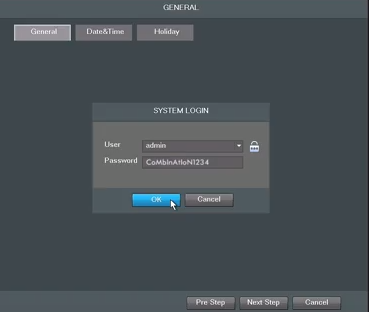 Note: Symbols and special characters will not be not be functional during password set up.
Troubleshooting
If you experience an locked account issue, there are a few troubleshooting steps you can take to help resolve the problem.
1. Power Cycle - To power cycle the device, please remove the device from its power source and allow the device to shut down. This should take approximately 45 seconds to complete. Once complete, plug the camera back in with its power supply and allow the device to boot back up. When the device is ready, try to connect to the device again.
2. Wait to Unlock - Initially, the DVR/NVR will be locked for a duration of 60 minutes. After the 60 minutes have passed, you will be given another round of password attempts to enter in the password correctly.
3. Password Reset - If the problem persists, you can fill out a password request form. This form can be found at https://amcrest.com/password
For further information on how to fill the password request form, please refer to the instructional video provided below.
When completing the form, for security purposes, it will be required to provide a proof of ownership to help prevent unauthorized access to your device. A proof of ownership include:
- A screenshot of the order history showing the purchase of the device.
- An image of the receipt or invoice for your purchase.
- A screenshot of the email confirmation with purchase information included.
Note: This information must be provided in common formats such as; PDF, JPG, or PNG format. Please make sure the file does not exceed 900KB.
If the file is too large, it is advisable to either take a snip of the image, crop it, or resize it to fit this criteria. To expedite your request, please make sure the image is legible and visible enough for verification purposes.
If you have any questions or are having continued issues filling out the password reset form you can reach us by phone at 888-212-7538 or by email at support@amcrest.com and we will be happy to assist you.