How To Adjust PTZ Speed
The speed of the PTZ capabilities can be increased or decreased using the web user interface for your camera on a computer or laptop. Adjusting the PTZ speed of your camera will allow the camera to more efficiently pan and tilt when controlled by the system. For more information on how to adjust the PTZ speed on your device, please refer to the information provided below.
Step 1: Log into the web user interface (web UI) for your camera using a web browser. For more information on how to access the web UI for your device, click here.
Step 2: On the live view screen, locate the PTZ options available for your device. Click on the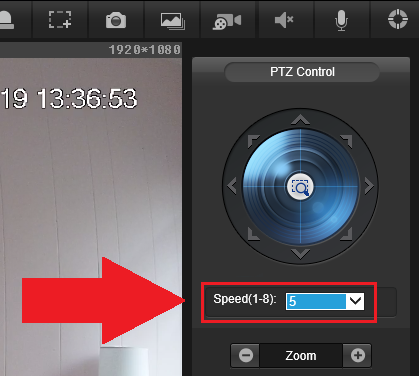 Note: The PTZ speed can be adjusted between 1 - 8, 1 being the slowest and 8 being the fastest speed.
Step 3: Click on the drop down menu and select your PTZ speed. Once a speed setting has been selected, the device will automatically begin to operate at that speed in either the web UI or using the Amcrest View Pro app.