Amcrest outdoor IP cameras come with RJ45 Waterproof accessory kits which allow water-resistant connection between CAT5 or CAT6 cable to the IP Camera.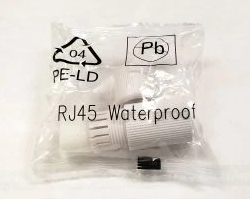 For more information on how to install this connector please refer to the information provided below.
Step 1: Insert bare network cable through End Cap, Grommet and then Barrel in this order.

Step 2: Strip and dress wires, and crimp RJ45 plug onto network cable electrical codes.
Note: If the network cable already has an RJ45 plug crimped on, you might be able to assemble it without cutting the plug off and starting over. Make sure the network cable with RJ45 plug can fit through the end cap and barrel. If it fits, then stretch the rubber stopper over the cable (if it's got a split lengthwise, or cut it with diagonal cutters)
If installing cable outdoors without conduit, run Outdoor rated cable with a Drip Loop as shown below. If the Cable runs from above to the junction point below, rain or condensation might run down the cable into the junction, causing problems. Avoid water entering the junction by looping the cable as shown. This allows any water following the cable to drip off before entering the junction. Please follow all applicable local, state or national electrical codes.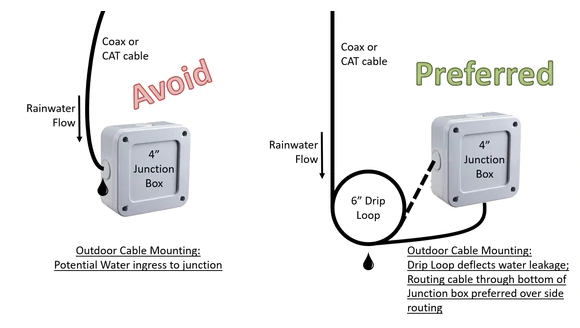 Step 3: Stretch O-ring over the camera Ethernet jack (connector).
Step 4: Plug RJ45 connector into the Camera Ethernet jack, and tighten/lock barrel onto it for a snug fit.
Step 5: Push grommet into the barrel until flush
Step 6: Screw on end cap, but do not overtighten. This applies pressure to the grommet, squeezing it tight around the network cable. Although this is adequate for many outdoor installations, it may be helpful to use additional sealing techniques listed below. If the included grommet is split lengthwise or if you split it yourself, it is recommended to add additional sealant.
Step 7: Seal the grommet area with silicone compound (RTV)
Step 8: Seal the assembled connector with weather sealing tape or liquid electrical tape.