Please open the Amcrest View Pro app open and ensure your device is added to the Device Manager.
Step 1: Tap the top left icon to open the menu and select the "Push Notifications" option located in the menu.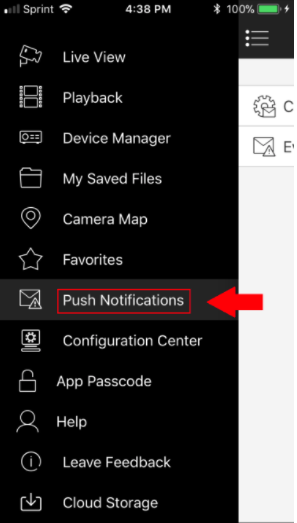 Step 2: In the push notifications menu, tap the "Configuration" tab.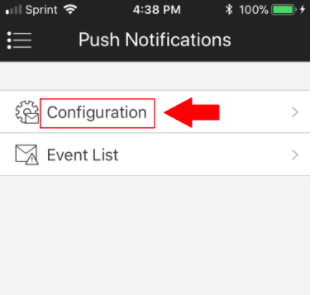 Step 3: Select the device you want to receive push notifications from. If push notifications are not enabled on your device, you will notice a "disabled" message in this field.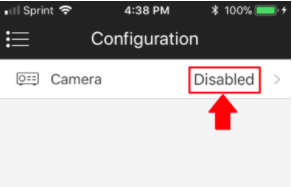 Step 4: To enable push notifications, toggle the switch next to your device to the on position.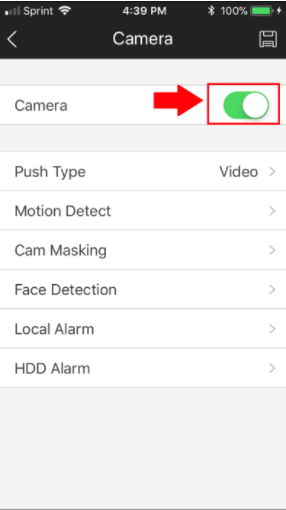 A list of options will be shown:
Push Type: This is what will open when you tap on the push notifications you receive, pushing the live view, video, or image from the event.
Motion Detect: Select if you want to receive notifications from motion being detected.
Cam Mask: Select if you want to receive notifications that the camera has been covered or the view has been blocked.
Face Detection:

Not currently available.
Local Alarm: Select if you want to be notified that a local alarm has been triggered. (This referring to the I/O alarm ports on the back of the device.)
HDD Alarm:

Select if you want to receive notifications that no disk is detected, there is low space on the disk, or the disk has an error. (In this case the SD card that's inserted within the camera.)
Note: Only Push Type and Motion Detect are available in the app at the moment.
Step 5: Next, we will need to enable a "Push Type". Please tap the Push type option and select which type of push notification you would like to receive.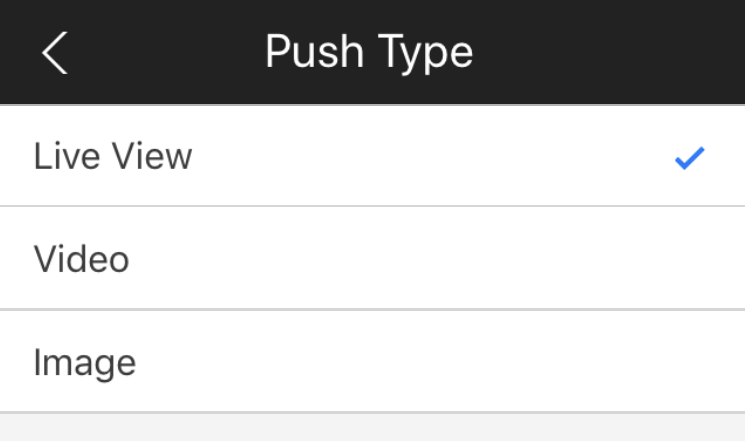 It is advised to set the push type to Live View. This will provide instant access to your motion event as it occurs without having to wait for the event to save to a microSD card. This will eliminate any recording errors when attempting to view a motion event.
If playing back a motion event from a microSD card, please allow the event up to 30 seconds after the event has occurred for the event to be retained before attempting to playback the recording. If the event is not properly retained into the app you may receive a No Recording error during playback.
Step 6: Tap "Motion Detection" in the previous screen and tap on your device to enable motion detection. Once configured, there should be a checkmark signifying the option is enabled. Press the back arrow to return to the previous menu.
Step 7: You will notice the push type and motion detect options now have values. Please tap the "Save" icon in the upper right-hand corner to save and apply your push notification options to your camera.