The AI Live tab allows the user to access video metadata such as detected people, faces, motor vehicles, and non-motor vehicles such as bikes, mopeds, etc. in real-time. Please note, due to certain limitations, this feature may only be available using the web user interface (web UI) on browsers that require a plug-in, such as Internet Explorer. For more information on how to access the web UI for your device, please click here.
Note: Please make sure to set up any video metadata types or face detection types before using the AI Live menu. These options must be enabled for them to be shown in the AI Live menu. For more information on how to set up video metadata or face detection, please refer to the articles provided below.
To begin, Log in to the web UI and click on the AI Live tab located on the live view screen. Below is a description of the items provided in the AI Live menu.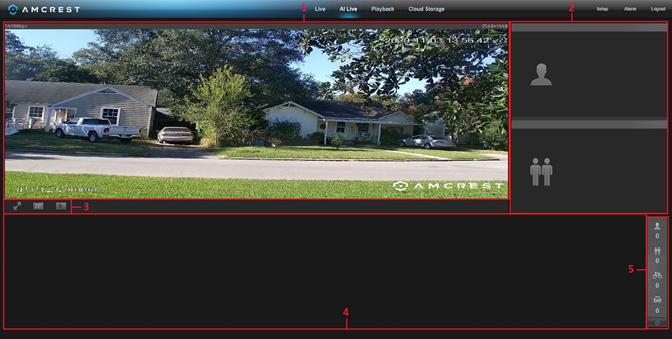 Section 1: Provides a live view of the camera.
Section 2: Allows the user to view human figures detected by the camera as well as facial images if a face is detected.
Section 3: Allows the user to change video settings related to the AI Live interface.
| | | |
| --- | --- | --- |
| | Full Screen | This button allows the user to make the live feed go into full-screen mode. Double click the mouse or click the ESC button to exit full-screen mode. |
| | Stream Fluency | This button allows the user to change the stream fluency. There are 3 options. Realtime reduces delay and decreases fluency, and Fluency has a larger delay, but the video stream becomes more fluid. |
| | IVS Overlay | This button allows the user to enable or disable IVS overlays on the live view screen. |
Section 4: The area in which snapshots of video metadata, such as a motor vehicle, non-motor vehicle, facial, and people images will be shown. Please note, the images in this menu will only be visible based on how often the interface is refreshed.
Section 5: These options provide a tally of how many facial images, people, non-motor vehicles, and vehicles were detected by the camera. Please note, click the gear wheel option to select between viewing a Smart Plan such as Face Detection or Video Metadata.
Once an object such as a vehicle or human is detected, a snapshot of the event will be retained in the interface followed by the number of events of each type.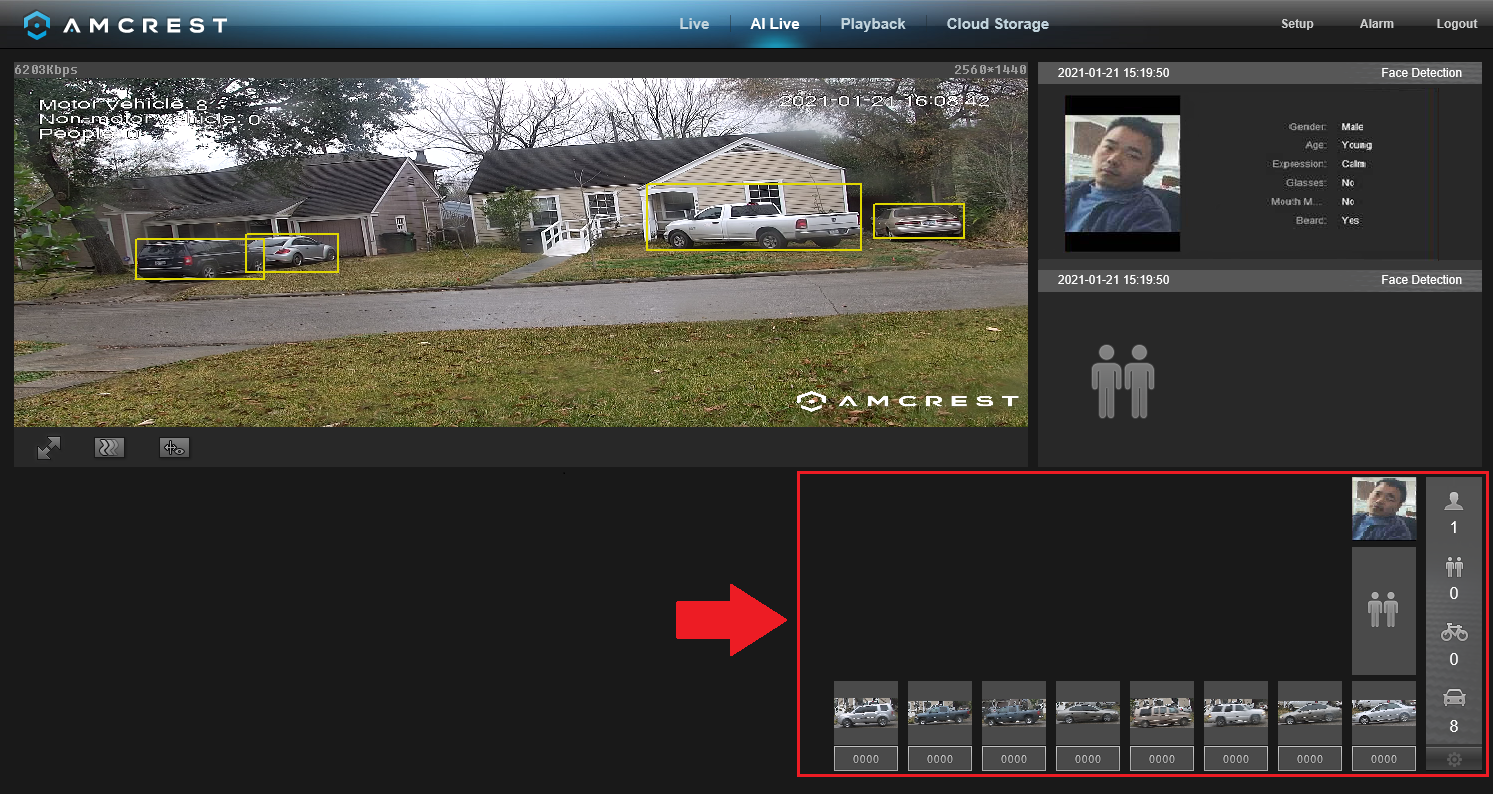 Note: Every time the interface is refreshed, the snapshot images will disappear. The interface will refresh if the browser is idle for extended periods of time.