Why Is There a Ripple Effect on the Video When Under Light?
The ripple effect may be caused by a powerline frequency that may not be properly set on the camera. A powerline frequency is normally set between 50Hz - 60Hz. This can be adjusted using the "AmCap" software, to access this software click here.
Download and install the AmCap software to your device and follow the instructions provided below to set the powerline frequency to 50Hz - 60Hz.
Before proceeding, please ensure you are using the most up to date version of the software you are using to view your camera.
Step 1: Click on Devices and select USB Camera to ensure the device has been properly selected.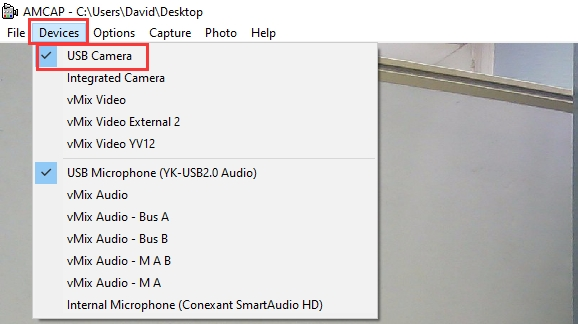 Step 2: Click on Options and select Video Capture Filter.

Step 3: In the Properties menu, locate the PowerLine Frequency (Anti Flicker) drop down menu and select either 50Hz or 60Hz. Click Apply and OK to set the settings to your device.