For the purposes of this guide, we will outline the most common method for setting up web access. Port forwarding using the HTTP protocol and using Dynamic Domain Name Server (DDNS) is the easiest way to set up stable remote access.
For this method, you should have direct access to your router as well as the ability to port forward the device using the router's built-in interface.
Below is a step-by-step walk-through that details how to set up the NVR for remote web access using DDNS.
Step 1: Log in to the web UI locally. For more information on how to access the web UI locally, click here.
Step 2: In the web UI, go to Management>>Network>>Connection. In the Connection tab, note the HTTP Port information for your NVR.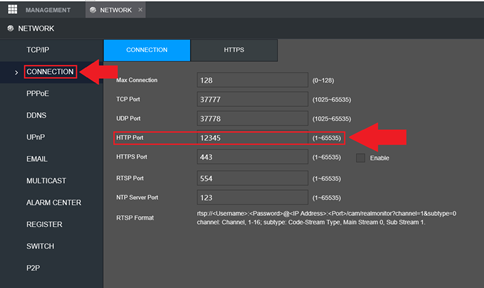 It is recommended to ensure the port number is at least 5 digits long to prevent any port conflicts. You can change the port to any 5-digit number that is less than 65535 (e.g. 12345) by clicking the number field and entering a new port number. Write it down, then click Save.
Step 3: The system will need to reboot for this change to take effect.
Step 4: Once the NVR has come back online, log back into the web UI and navigate back to the Connection menu to verify the HTTP port has been updated properly.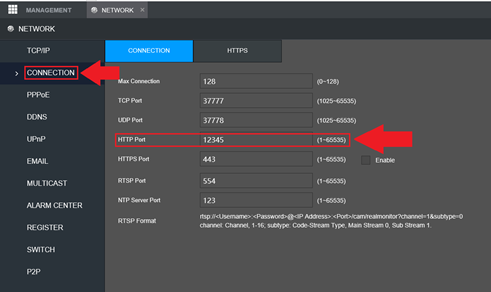 Step 5: Access your router's user interface and port forward the device using the HTTP port information displayed in the system. Every router's port forwarding protocols are unique. For more information on how to port forward your specific device, please visit portforward.com or refer to the user manual for your specific router.
Note: When port forwarding the NVR in your router, make sure to use the TCP, UDP and updated HTTP protocols displayed in the NVR. If DDNS is not an option the device can be accessed remotely using the public IP address for your network and the HTTP port used that was port forwarded in your router. To locate your public IP address and verify the connectivity of your system, please visit: canyouseeme.org
Step 6: After the ports have been forwarded in the router return to the NVR's interface and configure DDNS. Click on the DDNS menu located in the Network tab in the left panel. In the DDNS menu, click on the Enable checkbox to enable DDNS. Make sure the AMCREST DDNS type is selected and a domain name for the NVR (the one you create) is entered in the Domain Name field. As an example, the Domain Name will be in the following format: mynewnvr.amcrestddns.com.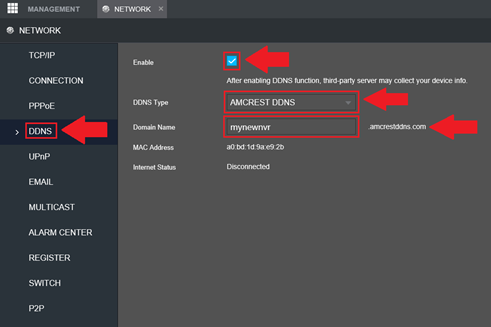 Click Save once the DDNS information is entered.
Accessing the Device Remotely
After setting up the NVR in the previous steps provided, open a web browser and enter in the DDNS domain name address previously setup for your NVR.
For example, if the DDNS domain name is http://abc123456789.amcrestddns.com and your HTTP Port is 12345, the URL would be http://abc123456789.amcrestddns.com:12345