Physical Installation (IP4M-1046E-AI)
Follow the steps and use the diagram in this section to install your camera.
Note: Prior to installation ensure that the installation environment can support at least 3 times the weight of the camera.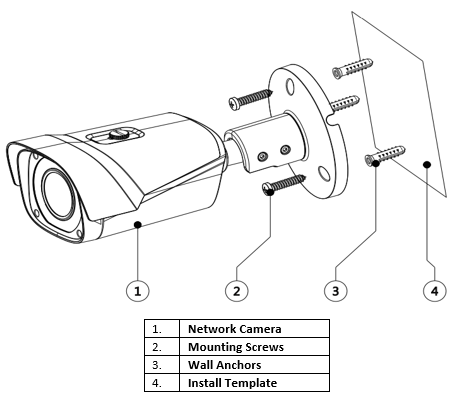 Installation Guide
Stick the installation sticker on the installation surface.
Drill through the holes provided on the installation sticker. A 1" paddle bit can also be used if installing wires through an installation surface.
Insert the included wall anchors into the newly drilled holes.
Align the bottom bracket of the camera to the installation holes. Then using a Phillips head screwdriver, secure the camera to the installation surface.
To adjust the camera up, down, or side to side, use the included torx wrench to loosen the lock and unlock bracket bolt on the bottom bracket.
When adjusted, turn the lock and unlock bolt to secure the camera in place.
Note: If a junction box or pole mount is needed for the installation of your device the camera is compatible with an AMCPFA121 junction box, or a AMCPFA121 + AMCPFA152 pole mount.