How To Verify Privacy Mask Settings.
Privacy masking is a feature found in many IP cameras which is used to protect personal privacy by concealing parts of the image from view with a masked area. Examples of this would be masking windows of domestic properties or license plates which are not subject to surveillance. 
For more information on how to verify the privacy mask settings for your camera, please refer to the information provided below. 
Step 1: Log into the web user interface (web UI) for your device. For more information on how to access the web UI, click here.
Step 2: In the web UI, navigate to Setup>>Video>>Overlay>Privacy Masking. 
Step 3: In the privacy masking section you will notice two radio buttons, one is to enable privacy masking the other is to disable. 

Step 4: On the live view screen you will notice some black boxes. These boxes indicate the areas that will be censored by the privacy mask. The boxes can be adjusted to your preference. They can be deleted as well be pressing Delete or Remove All. After you have set your privacy masking settings, and would like to save, press the Save button to apply the settings to your camera.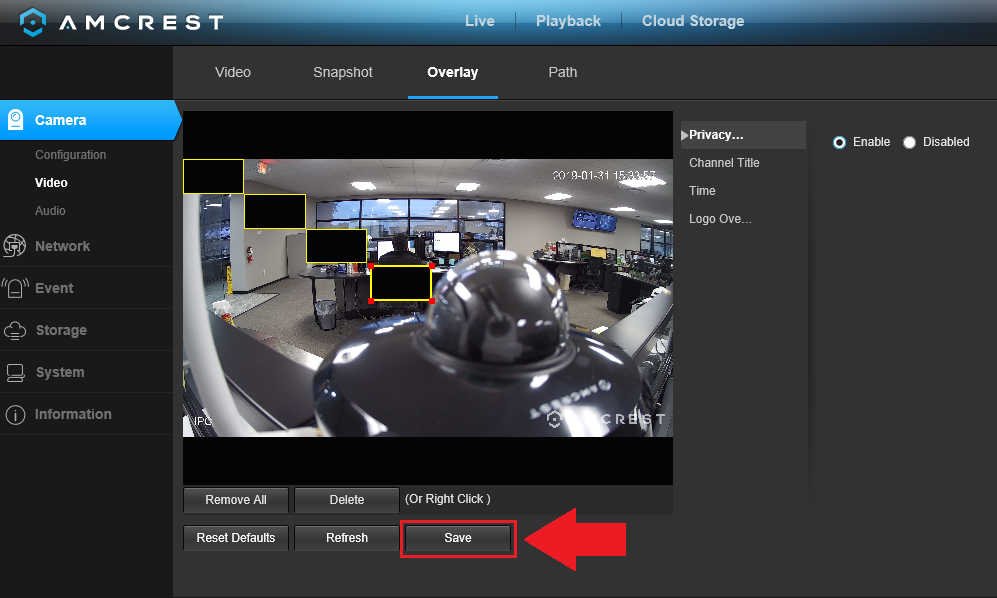 Note: To disable privacy masking, make sure to click the Disable radio button and Save to save the setting to your camera.