To install the camera on a ceiling or wall, please reference the below diagram as well as the steps:
Note: Prior to installation, please ensure that the installation environment can support at least 3x the weight of the camera + bracket.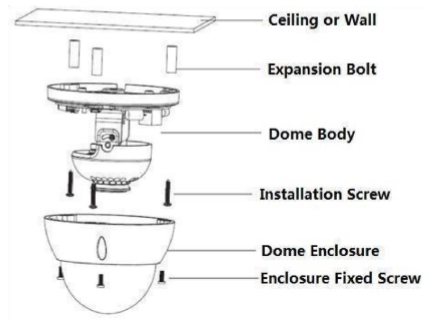 Note: Due to specific hardware limitations within your camera it is important to note that these devices will not be able to automatically pan/tilt or pivot in either the app or via the web UI on a computer. For this reason, it is imperative to make sure to mount the cameras properly and position them as efficiently as you can to the areas you wish to monitor. All positioning actions to the camera will have to be performed manually.
To install the camera onto a wall, follow the steps below:

1. Use a Torx/Hex wrench (included) to open the dome enclosure by unfastening the three inner hex screws on enclosure.

2. Place the installation sticker on the wall or ceiling surface that you wish to mount your camera.
3. Using the X's on the installation sticker, drill 3 holes to allow for the insertion of the included expansion bolts.

4. If the camera's cable will be exiting through the wall or ceiling surface, please be sure to drill an exit hole and pull the cable through.

5. If the camera's cable will be exiting through the side of the camera, route the cable through the U-shaped channel on the side of the enclosure.

6. Align the camera with the installation sticker, then line up the 3 screw holes in the camera pedestal to the three plastic expansion bolts on the installation surface. Put the three included screws through the camera then insert them into the expansion bolts firmly.

7. Adjust the camera in the position that you want it to be in, then reattach the dome body to the base of the camera. Note: Range of lens: vertical (0°~+65°), horizontal (0°~+355°). When adjusting the camera into position, please ensure that the camera's enclosure does not block the image or cause reflection of IR light.