Please watch this video for more details
Basic Wiring Overview
On your device you will notice a pre-attached wire pigtail containing 5 wiring connections These connections contain a power connection and ground, an Ethernet connection, audio wires, and alarm wiring. 
Note: There are no built-in speakers or microphones, all audio for this device will be provided using external third-party devices such as microphones and speakers.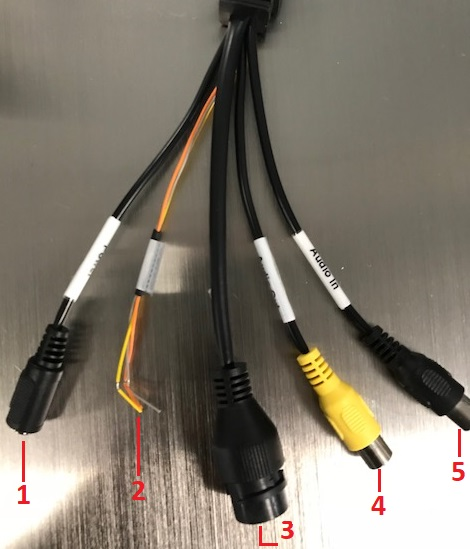 1. POWER - This connection is optional for this device since the device will draw power via an Ethernet cable (PoE) however, the option is there. The camera will require a basic 12V DC power adapter. This wire also has a optional grounding (EARTH) wire for additional grounding of the unit. 
2. ALARM -  This connection provides alarm in and alarm out features to an external alarm or security system. The basic overview of these wires are as follows: 
| | |
| --- | --- |
| 1Yellow | ALARM_IN1 |
| 2Orange | ALARM_OUT1 |
| 3Gray | ALARM_GND (Ground) |
3. Ethernet Connection - This connection is used to transmit data and transmit PoE power to the unit. The unit is standard PoE (802.3at) compatible. A POE+ connection is not applicable for this device.
4. AUDIO OUT - This connection provides a mono RCA input for outgoing audio. This connection is typically used to run an external speaker which can be implemented for two-way audio. External speaker sold separately. 
5. AUDIO IN - This connection provides a mono RCA connection to utilize an auxiliary microphone. For more information or if you would like to purchase an external microphone for your camera, please click here